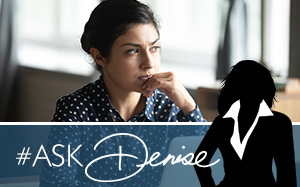 Q: "Denise, I have been keeping my chin up with this whole COVID situation but most of my potential clients have decided to wait. I have kept them up on the MLS stats, have let them know about our local MLS protocols regarding showings, and all five of them, some buyers and some sellers, all have very valid reasons to wait. I know they will eventually move forward, but I feel like the wind has been sucked out of my sails and I don't know what to do with myself. I feel that I am struggling in way now that I wasn't even a week ago and I am not sure what to do."
A: It sounds like there are two separate issues here – one is the loss of potential income and the other is not knowing what to do with yourself. You aren't the first one who is in this situation and you certainly won't be the last. It is important to keep yourself out of the funk and keep your forward momentum. Here are five things you can do right now to shake that funk:
1. Clean out a cabinet, drawer, shoe rack, closet, garage, your car, or something that has been driving you crazy. Activities like this as opposed to paperwork and work engage another area of your brain. And notice I haven't directed you to clean your office or your desk – that will come, but for now, focus on personal space, not work space. If you want additional energy, turn on some music and get to it!
2. Do something nice for someone else. Call someone you haven't talked to in a while, send someone flowers, make a donation to a charity, go get a coffee and pay it forward – just do something that is going to make someone else's day.
3. Do something nice for yourself. Plant an herb garden on your deck, take a bath, sleep in, make a nice dinner – whatever you need to recharge your batteries, give yourself some time and space to do that.
4. Connect with past clients. Write some cards, get on a Zoom meeting to catch up, send a BombBomb video, or start pulling individual property reports as an excuse to reach out. Connecting with past clients is a great way to get your mojo back. They like you. They will likely refer you if you have kept in touch and if they have the chance.
5. Take some lead generation action. Now it is time to get that pipeline humming along. Now remember, it is all about timing with generating leads. The action you take over the next several weeks may seem to yield nothing, but then again, you may have some buyers who sellers who do want to take this time to begin getting prepared. I like to think of lead generation as planting seeds. If you take a packet of seeds, several of those will be duds or the elements won't be quite right. But sprouts will start. They may take longer to germinate than what it states on the seed packet because everyone's timing is different, but if you make yourself available with expertise and information, and an easy call-to-action, those calls will come.
The timeline for the above is several days, but no more than a week. Sometimes people get stuck on items #1 or #3 which makes it very difficult to make your way back to work. However, you could do this in several cycles over the course of several weeks and that may be just what you need to get through!