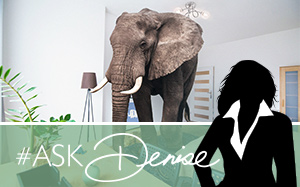 Q: "Denise, I had a really odd thing happen yesterday that I can't stop thinking about and am wondering how I should move forward. I have been working for about two months with my sellers, helping them get their home ready to go on the market in the next three weeks. Although we don't have a signed listing agreement as we weren't sure about the target list date due to COVID, we have discussed listing strategy and timing, we have talked about how showings are handled, how I will be handling open houses virtually, and most importantly, I have also been helping them coordinate work being done on their house, making recommendations for vendors.
"I have reached out to the sellers twice this week, once over the weekend to provide some feedback on one of the proposals a vendor sent them (this was via email) and then also gave a call yesterday to follow up since I didn't get an email back. The wife answered her phone and the conversation was cold. It was bizarre. I have no idea if she is upset with me or was just having a bad day, but if she is upset with me, I cannot for the life of me figure out what I could have done wrong. Is she blowing me off and plans to list with another agent? What should my next communication with her be and how?"
A: It could very well be that she was having a bad day and her coldness has nothing to do with you. Maybe she had a headache, was tired, or stressed, and you bore the brunt of it. If you have had multiple phone calls with this person, then remember, she picked up the phone. If she was blowing you off, she probably would have let it go right to voice mail.
However, I am a big believer in addressing the elephant in the room…if the elephant is still in the room. Here is how I would go about this:
Do you have an excuse to reach back out? For example, if they were going to be working on some container plantings for improving curb appeal at the front door and you notice there is a plant sale somewhere, that is a great excuse to reach out.
Call first. Hopefully she picks up. If so, start with something like this, "Julie, I was calling because I think the planters by your door still need to be planted and I just went by The Plant Store and they have a lot of the plants we were looking at for 50% off. What do you think?" By leading with an open-ended question, she should have more than just a yes or no answer for you and you can get a feel for how her cold factor is playing out.
If she isn't cold, then she was probably having a bad day. If the cold is still there, then you have an elephant in the room that must be addressed.
To address the elephant, you can simply say, "Julie, I may be wrong, but I am getting the feeling that you are upset about something. I care about you and if there is something I did, I want to make it right." At this point, she will likely do one of three things:
Apologize and say that she is upset about something else and that it has nothing to do with you.
Tell you what she is upset about which will allow you to work through it.
Continue to be cold.
The third point is the only one you really need to worry about. If she is still cold, try again to connect with her in a few days. Remember, you can't control what she does. You can only control how you react, so don't spend too much of your energy on this worrying about all the possibilities.