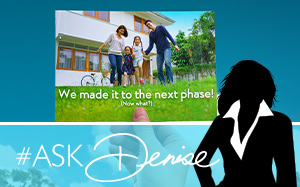 Q: "Denise, our state is entering into a new opening-up phase and I had a crazy idea about sending out a celebratory postcard – like a Happy New Year card but to welcome our new phase and include a few facts on the back about what they can expect for real estate – such as open houses, showings, photos, etc. Do you think this is a good idea or is everyone COVIDed-out?"
A: I think this is a great idea! Although you are right that people are experiencing COVID fatigue, I think your take is interesting. I think there is a level of celebration about opening back up along with worry about what the new flexibility will bring in terms of new cases. I think your approach is cautiously optimistic and is the right tone.
Your postcard needs an eye-catching photo that is fun-based, so take a look at stock photo sites such as istockphoto.com or shutterstock.com to license a good photo that makes your message sing.