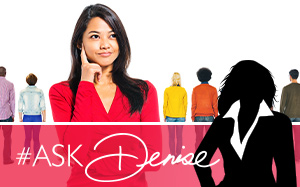 Q: "Denise, I am ready to establish a brand for myself and my business, but I am at a brokerage who "highly discourages" this and wants us to use the company brand. They even offer staff to help with things like creating flyers and marketing materials, but it all has to be in the company brand. Should I just accept the help and use the company brand (it's not bad, but not the differentiation I want) or do my own thing?"
A: You know I am a huge advocate for having your own brand, but I am also an advocate of following the rules. Does your brokerage "highly discourage" using individual brands? Do they make it inconvenient for you to use your own brand? Or is there a rule against you having your own brand? If there is a written rule that is applied to every agent, then you should follow the rule.
However, if there is not a rule, then proceed! You should not expect the staff who usually handles the property marketing and marketing materials to help, so that will be a hurdle you will need to tackle…or find your own assistant to handle those tasks on your behalf.
If you have questions like this, we can help! Reach out and make an appointment for a no-obligation consultation.