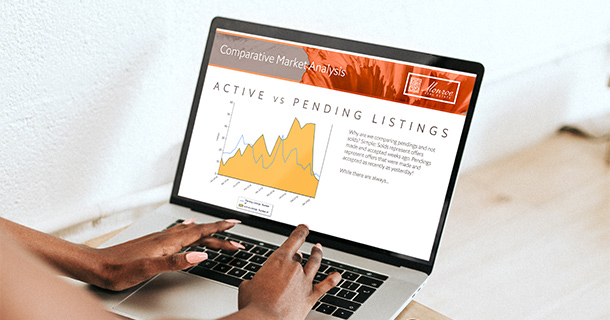 I received a call recently from a client that was upset because she had lost a listing that she was sure she was going to get from a past client.  When I asked her why she thought she did not get the listing she told me that she had no idea.  So, I asked her to send me over everything she had presented to the seller to see if I could see any possible reason for the seller to not want to use her.
My client sent me a CMA that told a pretty dreary story.  According to the CMA the seller's home would probably take at least 60 days or more to sell and not for top dollar.  The sales data clearly showed that the most recent sales comps had taken at least 60 plus days to sell and each of those sales had in fact sold for considerably less than the list price.
The challenge with this CMA is that it relied on past sales data rather than on current market data to price the home.  The reason I rely so strongly on pending sales is because it more clearly represents what is going on in the market right now.  Even though you are not able to see what the sale price is, you are able to see if the home sold in 60 days or 6 days.
What had happened in this scenario is that my clients seller happened to own a home that was in an area where homes had been sitting on the market for 60 plus days but then had recently experienced a shortage of supply so the days on market number plummeted.  The research I did showed that new listings in the sellers' neighborhood were pending in under 3 days, every one of them.  My client did not feel comfortable being able to use that information because the homes that had pended were not closed yet and she was not able to access the sales price number.
So, what happened, well, when the seller asked my client how the market was in her area my client told her seller that the it was slow and she could expect to be on the market for quite some time.  No wonder the seller went with another agent.  The other agent obviously told the seller the home would sell quickly and in fact the day I talked with my client she was devasted to report that the home was listed by the other agent and had pended in 2 days.
It is imperative when meeting with sellers that you do ALL YOUR RESEARCH.  You cannot rely on past sales data. "Sold Listings" represent properties that accepted an offer weeks or even months ago. "Pending Listings" represent properties that accepted an offer as recently as yesterday. You have to keep your finger on the pulse of the pending market.  Pending sales clearly show where the demand in the market is.
The challenge was that my client failed to look at the pending charts, so she relied on past sales data and did not realize there had been a sudden shift in the market.  When working with sellers it is imperative that you do your research before you open your mouth because if you don't have the right data you could lose even the most loyal of clients, a past client.
The chart below clearly shows that there was a surplus of homes that caused past sales to take so long to sell but then there was a sudden change in inventory which caused homes to sell in 2 days.  This is how impactful tracking pending/listings can be and how dramatic prices can change in a short period of time when there is a change to inventory.
By Denise Lones CSP, M.I.R.M., CDEI – The founding partner of The Lones Group, Denise Lones, brings nearly three decades of experience in the real estate industry. With agent/broker coaching, expertise in branding, lead generation, strategic marketing, business analysis, new home project planning, product development, Denise is nationally recognized as the source for all things real estate. With a passion for improvement, Denise has helped thousands of real estate agents, brokers, and managers build their business to unprecedented levels of success, while helping them maintain balance and quality of life.