Buildings in logos are a tried-and-true staple in the real estate industry. But how do you make a classic theme mesh with your personal style? From the style of homes to location-specific skylines, there is almost as much variety in buildings as there are in people. Our team of experienced designers can help match the right building elements to your target market and branding aesthetic. Here are three of our clients who are rocking their unique building-based logos.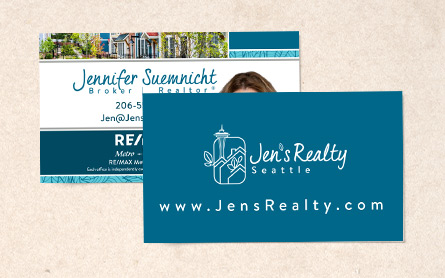 Jennifer Suemnicht: Suburban Seattle

Jen's logo features the iconic Space Needle above three roof lines, giving the sense of a local neighborhood. Leaves were added to connect to the outdoor culture of the Pacific Northwest, and are continued throughout her brand in the form of patterns and punctuation.
---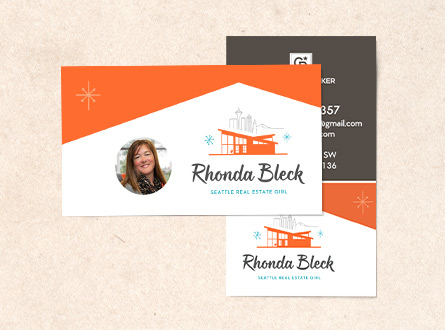 Rhonda Bleck: Mid-Century Modern

Rhonda loves all things Mid-Century Modern, and the architecture of that genre is very distinct. Her detailed house silhouette style is easy to identify and makes a bold statement with her signature orange and teal palette. The city of Seattle and Mount Rainier in the distance behind the house establish her local focus. Her whole logo is like a work of art!
---
Lauri Carter: Stained Glass Statement

Lauri's expertise in metropolitan areas is represented in her logo. It includes three tall buildings and three trees overlapped as if it were stained glass in a very minimal and precise style. Soft colors and bright white space gives her whole brand a very light and airy vibe.
---
Even though all three logos share a similar theme, each one was created and customized for their agents, and the end results perfectly reflect each agent's personality and style.
Buildings are one of many different elements that we can include in your personal logo. Curious about what style fits you and your business? Take our Design Style Analysis for a little insight and reach out for more information.


To talk to a branding expert and discover how branding can make a difference in your real estate business, call us at (360) 527-8904, email [email protected]

---