Of course you have a buyer! It seems about everyone has a buyer these days who is searching diligently for a property. Often these buyers have missed out at least a couple of times in a multiple offer situation, are disappointed, deflated, and the agent has provided a glimmer of hope that they might be able to secure a home by sending a letter to local homeowners.
Before you do that, however, I highly suggest you have a plan, some rules around how that plan will be rolled out, and have a general buyer letter template ready to go that you can customize as your buyers' needs change.
Has the buyer really done what they need to step up to the plate?
If the buyer hasn't been thoroughly vetted and approved, isn't being realistic about what financially it is going to take to buy a property, is going after properties that they really can't afford in this market and won't expand their search parameters, then the buyer HASN'T done their part. If they haven't, why are you spending your time and hard-earned money to send out a letter?
In my rulebook, Buyer not ready? Buyer not realistic? No letter!
Have a strategy session.
If you have determined the buyer has indeed and will indeed do their part, before sending a letter, have a strategy meeting with the buyer about their expectations and targets, and then have a discussion that asks the "what if"s. What if you have a homeowner that is willing to sell off-market but they want to negotiate a price? What if the kitchen is in need of updates? What if during the inspection you learn that the roof needs to be replaced?
Starting the conversation with a homeowner who doesn't have their property on the market and with no photos to go by can be a challenge and you don't know what you are going to get. Having some good conversation ahead of time to make sure your buyer is prepared to complete a transaction in a non-orthodox way will save everyone time and money down the road. Some buyers may mistakenly think that because the seller is willing to work with them off-market they have a leg-up. However, I have heard of many a seller who decided that working with a demanding buyer just wasn't worth it but already had it in their mind to sell and decided to list on the open market, leaving the buyer standing there with their mouth open in surprise wondering what just happened.
No throwing mud.
I have heard of agents sending out thousands of letters to homeowners all over the area. And then, who gets the calls? The agent! Who has to go meet with the homeowner to see if the home is even a contender? The agent! Who has to field the phone calls? The agent! And who has spent their hard-earned money? The agent!
Don't let the buyer dictate how this process is going to go. Indicate how many letters you are willing to send out at once and then give the buyer some homework to do. You can either get a list of properties that meet the criteria from a title company or your company or MLS may provide a service that allows for list generation and then have the buyers eliminate any houses they have no intention of buying. That may include entire streets or individual houses, but get them eliminating so you don't waste your time or money.
Don't just send a white envelope.
I literally just had one of my favorite agents, Rae Anne Catron, say this week that she got a listing because she sent a letter in a branded envelope. It was compelling enough for an investor owner to open, read, and make contact. If you have a brand, it begins to make a personal connection as soon as the mail is picked up. The chance you run by sending a non-branded envelope is that it isn't interesting enough to open and if they don't recognize you name, they may think you are trying to sell them an extended warranty to their car and toss it. Every letter you send is a marketing opportunity!
Get specific!
The most successful letters don't just say, I have a buyer who is interested in a house like yours. Call me. The most effective letters offer some sort of proof that this buyer exists and may actually be a buyer prospect for that particular property. Something like:
My buyer has recently moved here from Texas and her mother lives on 34th St. Her mother is aging but would like to stay independent in her home with her daughter living nearby. The buyer is looking for a single-story home, with at least two bedrooms on the main level. The buyer also needs a two-car garage. Public records show that your property checks all these boxes. However, the buyer is also looking for a home with mature landscaping, and from what we see from the street, it has.  
In addition to indicating you have an actual buyer, these details also engage people's natural desire to help. Some agents who have used this letter have indicated that homeowner recipients actually reach out with suggestions of homeowners to contact and some pass the letter onto others.
Closing
It is important to keep to the topic at hand and not be tempted to throw in if you are interested in listing, give me a call. That negates the buyer's need and can turn the letter into a negative! Instead, focus the call-to-action back to the buyers:
If you have thought of selling and would be open to allowing my buyers to walk-through your home and start the conversation around buying and selling, please give me a call or send an email. I would be happy to talk with you first to answer your questions as I realize this may be a different approach than what you are used to in a real estate transaction.
Letter-writing sounds like old-school marketing, but with homeowners being inundated with new-school marketing, old-school may be just what you need to stand out and get your buyer into a property.
---
Learn more about how reverse offers work with Denise Live! Reverse Offers – available only to Club Zebra Pro members:

REVERSE OFFERS
What does a reverse offer look like in a seller's market? Rather than waiting for a seller to offer a listing, your buyers are ready to make offers on homes that aren't even on the market. Learn how it works, how to make a compelling offer, and how to protect your buyer when taking this alternative approach to finding listings at this week's Denise Live.
May 4th at 9:00 am Pacific
Open to Club Zebra PRO Members
Not a member? Join today for FREE!!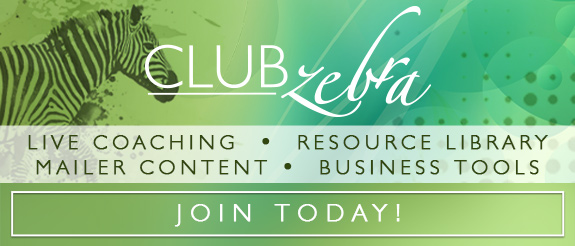 (Free offer expires May 5th)
By Denise Lones CSP, M.I.R.M., CDEI – The founding partner of The Lones Group, Denise Lones, brings nearly three decades of experience in the real estate industry. With agent/broker coaching, expertise in branding, lead generation, strategic marketing, business analysis, new home project planning, product development, Denise is nationally recognized as the source for all things real estate. With a passion for improvement, Denise has helped thousands of real estate agents, brokers, and managers build their business to unprecedented levels of success, while helping them maintain balance and quality of life.