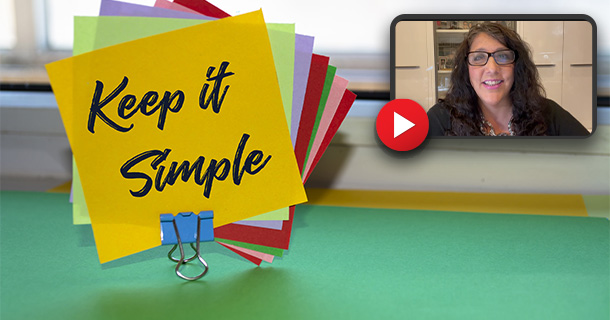 Every year when the first of January rolls around, everyone comes up with this long list of things and goals they want to get done. But this year, I want you to start with one thing.
Just one thing.
Don't get distracted by the fog of resolutions and checklists of goals. Pick out one goal or task to achieve this year. It could be a thing that is a source of pain. It could be a source of great joy. It could remove stress for you. Just really think about one thing that, if you were to complete this year, would positively impact everything else. Start there.
If you're successful, fantastic! Now you can pick a new one thing and continue on.
I think we put a lot of pressure on ourselves. We sit down and create these great big, extravagant lists. It looks perfect in the planning, but you fail in the execution. The key to avoiding that cycle is to start with one thing that you know you can complete and set yourself up for success. Then, when you succeed with that, it creates the momentum you need to keep going and succeed at other things.
I remember many years ago, when I started selling real estate, one of my favorite mentors in real estate gave me some great advice: "Denise, keep it simple. Master one thing. Whatever that one thing is, do it and do it well—do it better than anyone else. Really keep your focus on that one thing." I have practiced that advice in my career for literally almost 30 years.
As you move into 2022, remember that this is the year to keep it simple. Don't put too much pressure on yourself. Focus on one goal at a time so you can get the win you know you deserve. From there, move on to the next goal, and the next.
I want everyone to have a fabulous 2022. I can not wait to see what this year brings. I'm so optimistic for the real estate market and our world in general. Just remember those three words: Keep. It. Simple.
To schedule an appointment, call us at (360) 527-8904, email [email protected].
---
The Real Estate Success Summit is a limited seating event and has sold out every year. Don't risk your seat by waiting until January to register. For more information or questions, start with our registration website at:
For additional information, visit our Facebook event page for a FAQ or call us at 360-527-8904.
---
By Denise Lones CSP, M.I.R.M., CDEI – The founding partner of The Lones Group, Denise Lones, brings nearly three decades of experience in the real estate industry. With agent/broker coaching, expertise in branding, lead generation, strategic marketing, business analysis, new home project planning, product development, Denise is nationally recognized as the source for all things real estate. With a passion for improvement, Denise has helped thousands of real estate agents, brokers, and managers build their business to unprecedented levels of success, while helping them maintain balance and quality of life.