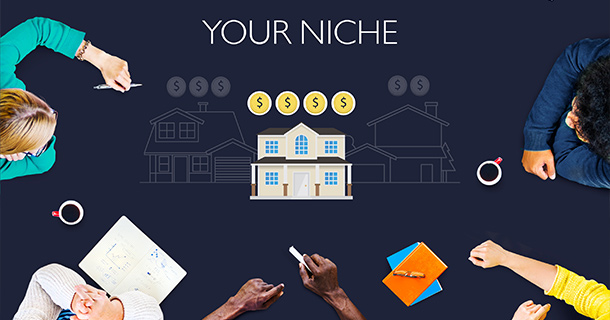 It is common knowledge that specialists usually garner more demand than generalists. However, real estate agents rarely start their real estate business only specializing in one type of real estate. Most real estate agents build their business with any transaction available. Fast-forward a few years and most agents find their database full of past and potential clients from a wide area. The agent is relying on that database for future business and when the opportunity to specialize in a niche market arises, agents are very reluctant to focus on that as they fear alienating the database they have been cultivating.
But specializing in a niche doesn't have to be an all-or-nothing situation. You can still specialize on a niche market and stay connected to your database. The success of balancing both comes down to consistency in communication and content.
Let's take a look at a different industry for a second to see how this can play out. Let's assume you have been going to the same dentist for years but now your dentist is marketing a new service – caps and implants. Your dentist is still offering general services and even offered caps and implants previously, but the difference is how the dentist is marketing it. If the dentist now has posters all over the office providing information on caps and implants, changes the name of the office to include caps and implants, and begins sending marketing to all the clients that only refers to caps and implants, then someone in need of general services may assume that the dentist no longer serves a general clientele and that is when a past client database can be alienated and future client base limited.
The key is to create balance. Here are some tips on how to do that:
Consider Your Brand
When developing a brand, determine if you want your entire brand devoted to that niche or if you want a more-general brand and have optional elements and imagery that are utilized when communicating with that niche market. For example, if your niche market is historic homes, but you have a variety of homeowners who own everything from Victorian homes to new construction, you can include architectural elements that are historic in your brand, but if you couple those with only historic home photography and content, then that may narrow your niche more than you intended.
Communicate to Your Clients
Communicate to your database about their real estate needs and communicate to your niche market about their real estate needs. You can do that with statistics and information that pertain to each audience. For example, if your niche is waterfront, you can talk about docks and bulkhead inspections with that audience, but that really isn't relevant for most of your database. Incorporate more-general information into your client communication for your database.
Leverage Statistics
For a geographical farm area, this is easy because the geographical area of the neighborhood can help narrow the content. For example, let's say your niche market is the Silver Firs neighborhood, but you also have clients in your database across Pacific County. Include Silver Firs statistics and sold property information for mailers to the Silver Firs niche market, but include statistics and general real estate information for the rest of your database.
Publicize in Moderation
On your website, certainly have information about that niche market available, but you shouldn't have your entire website devoted to that niche market. For example, if your niche market is a geographical farm area, include that area in your navigation or perhaps a button on your home page, but you don't need to splash that niche all over your website.
Looking Ahead
Now, at some point in your career, you may decide you want to work more with the people in your niche market and less with your database. In that case, you have a decision to make. You can choose to continue communicating with each audience as you were and determining a referral partner to work with (so you can continue to bring in referral income and receive returns on the investment you have already made) or you can simplify and only market to your niche market. If you can make the former work, that makes the most sense for most agents I work with. But that transition takes strategy.
Don't be afraid to niche! Remember, niche=rich, specialists make more money – and generally have more job satisfaction – than generalists. Balance is key to staying relevant with your database and build your niche.
Don't be afraid to niche! Remember, niche=rich, specialists make more money – and generally have more job satisfaction – than generalists. Balance is key to staying relevant with your database and build your niche.
---
All throughout March, we are going to be focused on niche marketing in our Zebra Reports and on our Denise Live! Tuesday trainings. If you have been thinking it is time to find a niche, but aren't sure where to start, join us. You can join Club Zebra FOR FREE which gives you access to all of my niche marketing ideas in March.
---
By Denise Lones CSP, M.I.R.M., CDEI – The founding partner of The Lones Group, Denise Lones, brings nearly three decades of experience in the real estate industry. With agent/broker coaching, expertise in branding, lead generation, strategic marketing, business analysis, new home project planning, product development, Denise is nationally recognized as the source for all things real estate. With a passion for improvement, Denise has helped thousands of real estate agents, brokers, and managers build their business to unprecedented levels of success, while helping them maintain balance and quality of life.