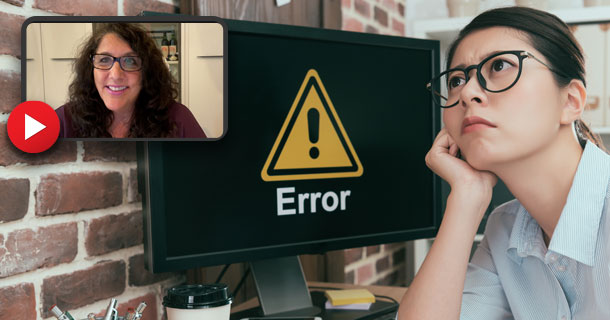 This week, I'm talking about the biggest mistakes I've made with technology. I've made tons of mistakes over the years, and I want to share them with you.
Mistake #1: Spending Money Before Researching
The first mistake on my list is wasting money on technology or software that didn't suite me. If something doesn't mesh with my workflow or learning style, there was a very low chance it would be effective. I didn't invest the time to research to see if they would be compatible with me before purchasing them.
It's really easy to do the research. You can start researching on YouTube. Look for reviews and tutorials to get a good idea of how the software or service works in real life. Don't waste money on things that don't fit your needs or your business style.
Mistake #2: Jumping on the Bandwagon
My second biggest mistake was listening to the raving fans of a piece of technology but not digging deeper. Every company likes posting the best reviews with enthusiastic people talking about how the service/software/app/gadget worked for them. A great review can go a long way, but it's no substitute for doing your own research. Even if someone you trust is singing the praises of this product, you have to make sure it's going to fit you.
Mistake #3: Skipping the Full Demo
This plays into another big mistake: Not watching the demo video. As agents, our schedules fill up pretty quickly and sometimes taking the time to watch the full demo doesn't seem like a good use of our time. They can be 20 or 30 minutes long, which can feel like a lot of time, but that time can save you hours of frustration in the long run. (This would be a great task to do during your Hour of Power.)
Mistake #4: Forgoing the Free Trial
Next mistake on the list is not taking advantage of free trials. A lot of people will skip the free trial because they anticipate the hassle of buying the product or service after a month of use. However, free trials give you a chance to decide if something actually works for you before you commit to buying it. Use your favorite calendar app and set reminders for when the free trial will expire. Then, on that day, assess whether this product is something you really want to spend your money on.
I've also seen agents make some technology mistakes, and I've learned from them (just like I hope you are learning from my mistakes).
Mistake #5: Ignoring Your Purchase
One very common mistake I've seen is purchasing a subscription service (for software, an app, etc) and then forgetting about it. They end up not using the product because they don't really need it or don't like using it. Then that automatic monthly fee gets lost in their business expenses for months or even years! Finally, they pull up the bill and realize how much money they have wasted on something they don't use.
Mistake #6: The Impulse Buy
Another common mistake is making an impulse purchase at a seminar or convention. It's easy to get swept up in the hype of a promotional event. Those sales pitches can be very persuasive, even if the agent doesn't really have the intent to use it. Sometimes agents will buy something because they think the purchase will motivate them to do something big in their business.
Trust your gut. If you feel pressured by the sales pitch or think "I have to buy this now to get started on a big change," don't buy it. Keep in mind that these technology products do work for some people (that's how the companies stay in business!) but it is statistically impossible for them to work for everyone. Take the time to be honest with yourself about whether you are really going to use it in a meaningful way.
Mistake #7: Muddling Your Way Through
The last big technology mistake I want to highlight is not asking for help or using the free tools available to learn how to use the technology effectively. When you are first implementing new system or product, there's going to be a learning curve. Ask for help from someone who is a bit more experienced, just to help you get through that first stumbling block. Watch tutorial videos. Reach out to the help-desk.
I encourage people to start their research on YouTube. It's so easy to hear what the average person is saying about their experience. You can learn so much by watching online reviews and tutorials. Take the time to invest in your education with every new piece of technology, and that will improve its effectiveness in your business.
Once you get past the learning curve on any new piece of technology, there can be a sense of accomplishment and stress relief on the other side. There are lots of tools out there that will improve your workflow and business, but you have to do the research, be realistic about whether you are really going to use it, and then put the time in to learn it.
This month, I challenge you to face your technology challenges, whether it's a fear of new technology or a need to add a new tool to your repertoire. And if you need more ideas, see what we are offering in Club Zebra during May (check the info below!):
If you liked this content, join us for more!
---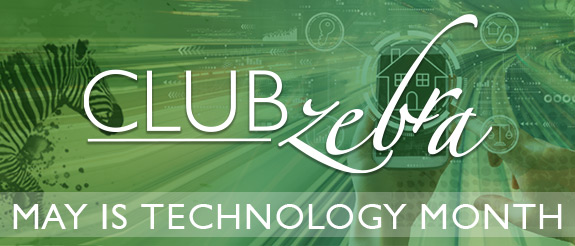 All this month, we are talking about technology in Club Zebra!
---
Now you can join Club Zebra for FREE!
---
Member benefits include:
– Denise Live every Tuesday morning at 9:00 am –
– Market Survival Guide first and third Tuesdays at Noon –
– Full access to loads of Technology and Business-Building tools in the Vault –
– Articles for your clients and infographics to post on social media –
– Take your tech to the next level with Club Zebra –

---
By Denise Lones CSP, M.I.R.M., CDEI – The founding partner of The Lones Group, Denise Lones, brings nearly three decades of experience in the real estate industry. With agent/broker coaching, expertise in branding, lead generation, strategic marketing, business analysis, new home project planning, product development, Denise is nationally recognized as the source for all things real estate. With a passion for improvement, Denise has helped thousands of real estate agents, brokers, and managers build their business to unprecedented levels of success, while helping them maintain balance and quality of life.