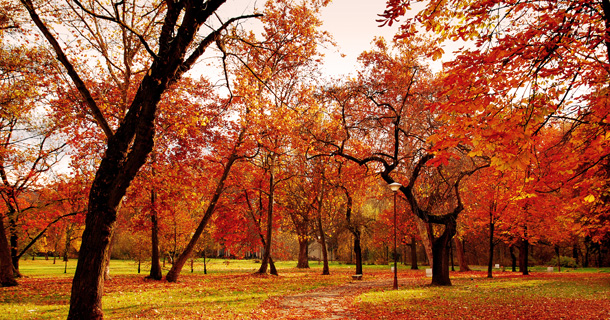 We're half-way through August and almost completely finished with summer. In preparation for the new school year, many of you are shopping for pencils, paper, and crayons – or laptop, tablets, and cell phones, depending on the age of your children! You may be fitting in one last vacation before school starts, or harvesting those last tomatoes from your garden.
What you're probably not doing is preparing your business for autumn.
Regular readers of the Zebra Report know that I am a huge fan of "quality of life" for agents, and I encourage all of my agent clients to plan time off into their work schedule. However, there really does need to be a balance between work and personal life. If you've taken some, most, or all of the summer off to enjoy time with friends and family it's definitely time to begin thinking about what the autumn may bring for you.
I'm always surprised at how many real estate agents feel that the fall is a "dead" time of year. Nothing could be further from the truth! While many families like to move prior to the start of the school year, there are many who have flexibility as to their move date… and many, many families, couples, and singles whose moves are not driven by the school calendar.
So set aside your assumptions about the autumn real estate market!
The truth is that multiple factors are combining to create opportunities this fall. New construction continues to pick up. Interest rates, although inching up a bit in recent weeks, are still unbelievably low. And the Foreclosure Fairness Act has reduced the number of foreclosures in most marketplaces. More homeowners than expected have been able to stay in their homes, and some of them are now in a position to sell. Non-distressed homeowners are finally acknowledging that we are out of the worst of the housing crisis, and are considering a move of their own.
How can you take advantage of the opportunities this autumn?  It's simple!  Just follow the five steps I've outlined below:
1. Get your database in order.
Has it been a while since you communicated with your past, present, and potential clients – your sphere of influence? If so, make sure your database is current and complete. You should have the mailing address, phone number, and email address for everyone on your list.
2. Prepare a "state of the market" update or report.
This important document should be mailed to everyone on your database. I recommend you send this via snail mail so it doesn't get lost in the shuffle. Be sure to include statistics comparing 2012-to-date to the same period in 2011. Share information about average sales prices, average days on market, the total number of homes listed, pending, and sold… and any other pertinent data. It's also important to share the implications of these statistics for both buyers and sellers.
3. Start thinking about holding a client appreciation event.
These events are one of the most underutilized marketing tools for agents. Whether you choose to hold them during the holiday season, or at some other time of the year, now is a great time to be planning the event that shows your clients just how special they are to you.
4. Make your list and check it twice.
What were you too busy … or too broke … to complete in 2012? Was it creating buyer and seller packages, getting a personal brand created, learning or investing in new technology? Get it on paper, and assign a date for the project to be complete.
5. Develop your personal education plan.
I'm not talking about simply making sure you have enough clock hours to renew your license. Instead of approaching education as a chore, why not seek it out as an opportunity to build your skills, to increase your knowledge, or to take the next step to becoming an expert in a niche market? All three of those approaches are likely to improve your business!
With the improvement we're seeing in the real estate market now is the perfect time to move from inactivity and worry to action… and success! Implement these five simple steps to create a smooth transition from the dog days of summer to what could be your best autumn ever!