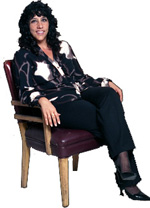 Q:  Denise, I have been thinking of putting a video introduction of myself on my website, but am not sure where to start. What do you suggest?
A:  FANTASTIC! I believe agents who step out of their comfort zone into the world of video this year will be richly rewarded. First you have to ask yourself if you are the type of agent who is going to tackle this themselves (recording, editing, producing, and posting online) or if they are going to leave some or all of that to others.
If you will be handling some of it on your own, my suggestion would be to find a good camera (I recommend heading to an electronics store where you can actually hold the cameras and learn the ins and outs from a sales associate), learn a bit about recording and editing video (check out your local community college or tech college for community classes), and post your video on YouTube to start and then embed in your website.
If all of that is completely overwhelming to you (and for most people it would be), I suggest finding a local videographer to partner with this year. Ask your receptionist or managing broker if they have heard of any good videographers in the area. Alternatively, you may want to look at real estate videos in your area and determine who the videographer was who did them. Then give the videographer a call, ask to see samples of their work, and talk about what you have in mind. If you see a sample that is very close to what you want, let the videographer know and ask what the price was to make that particular video. Make sure you get a price up front – in writing or email – and make sure it includes everything you are going to want – from initial recording to producing and posting online.
In terms of content, you want to have this video be short – no more than two minutes. Introduce yourself and talk a little bit about how your approach to real estate is different, always keeping in mind "what's in it for the client".
Having a videographer on your team will serve you well! Consider creating other videos for neighborhoods you specialize in, common questions for buyers and sellers, and your areas of real estate expertise are just a few of the videos that you may want to add once you get the video "bug".