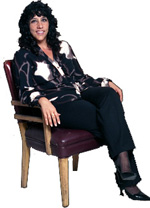 Q:  Denise, I had a listing that I knew was overpriced, but I agreed to it with the expectation that we would revisit the price if it was still on the market after few weeks. When that time came, the seller blamed me, claiming the lack of traffic was my fault. Although I was armed with facts and spoke calmly, her negativity really rattled me! How can I keep negativity from clients like this from affecting me?
A:  It is not unusual to encounter a client who is either passive aggressive, or just downright confrontational. The key to deflecting it is to be comfortable with how you operate and to know in your heart what it takes to get the job done.
For this listing, you indicated that it was overpriced and that was why it didn't sell. However, there may have been something she said that made you doubt that price was ultimately the reason it didn't sell. Do you have a specific marketing system that you follow with listings similar to that one that had been successful in the past? Did you market to the other agents in your office and company? If you feel good about the job you performed regarding the marketing – and if you would market that house the exact same way again – then this isn't about you. Unfortunately there are just people in this world who have learned how to communicate in this way.
My advice is to examine your processes for taking, marketing, managing a listing, pre-qualifying, and touring a buyer to make sure your systems are solidified and you feel like you are providing the best quality client care throughout. Being more secure in these processes will keep you strong and better equipped when blasted with negativity. And if the negativity begins to become verbally abusive, then it is time to calmly but strongly walk away – from the situation and possibly the transaction.