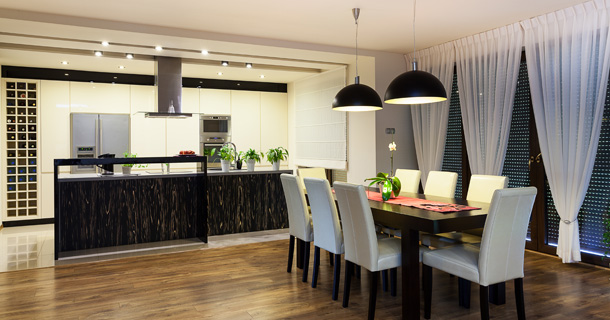 With each passing year home feature trends shift and change based on buyer demands and lifestyle preferences. Remember when light oak kitchen cabinets were the "in" thing? Today in many areas white kitchen cabinets are the first choice of many buyers and remodelers for its broad appeal. I like to follow the feature trends in housing construction, renovations, and remodeling and am happy to share with you the top 10 trends for 2016:
Traditional on the Outside, Modern on the Inside: modern decor and interior design is the becoming a very high demand remodel and new home purchase request. Buyers still like traditional homes on the outside, but are opting for more modern, sleek interiors. A more minimalist design palate is the preference of many buyers.
Quality Trumps Size: buyers are opting for smaller homes that have high quality finishings and attention to architectural detail. Gone are the days when you can simply evaluate a property by asking for its square footage, area, and general condition. Smaller homes and condos that are finished well and that show well are in high demand. Builders and remodelers are finding creative space saving solutions with many organizational systems that wow buyers.
Kitchens as Multipurpose Centers: Large kitchen islands are becoming a very popular choice for buyers. They are being used as work centers, offices, craft areas, gift wrapping areas, and much more. The large island is the new "hub" of the home and they are in high demand. The other trend is in advanced quality oven systems that include steam ovens, conventional ovens, speed ovens, convection ovens – and yes, some buyers are opting to put all of these in their home. They want their kitchens to be entertainment centers that can create high-end, restaurant quality food. I'm sure if you ever ate something cooked in a steam oven you would quickly become a fan!
Wi-Fi Enabled Home Management System: Home management systems are in high demand for the tech savvy client. A Wi-Fi enabled home management system allows remote entry with access via tablets or smartphones. The system can remotely manage the security system, door lock control, light control, lighting system control, heat control, pool controls, and even provides voice management options. The voice management security systems send video feeds of your property exterior and interior directly to your phone or laptop so you can communicate with visitors or intruders that are outside or inside your home. Smart Home Technology is the next big thing in new home features and renovations.
Less Formal Space, More Common Space: Buyers are opting to buy open space plans; gone is the need for formal living spaces. Buyers want entertaining spaces and rooms that can serve many purposes.
Bring the Outside In: Outside space is critical for today's buyers. Buyers are spending a lot of time at home relaxing and entertaining, making a good outside space is essential. Master bedrooms that have connected outside patios and large windows are very popular.
Mini Masters: Buyers are asking for secondary bedrooms that have their own bathrooms. These bathrooms tend to be smaller, have showers, not tubs, and serve to provide the buyer with space for visiting guests and returning children.
Bathroom Spas: Deluxe bathrooms with steam showers, saunas, and large, stand-alone soaker tubs are very popular. The master bathroom has become one of the most important rooms in the house.
Generational Living Is a Must: Many buyers are buying properties that have the ability to house an aging parent, adult child, or even an adult child with grandchildren. Savvy builders are now offering plans that have separate living areas and fully functioning suites. This trend will only increase in the future.
Closet Retreats: Many buyers and home owners that remodel the master closet are spending as much time and money on their master closet cabinets and organizational space, as they would on kitchen cabinets. Gone are the days of selling a nice home without a good closet system in the master!
With these trends in mind, this coming year you will be better equipped to navigate a buyer's wish list and better able to present your seller's home to its best advantage.