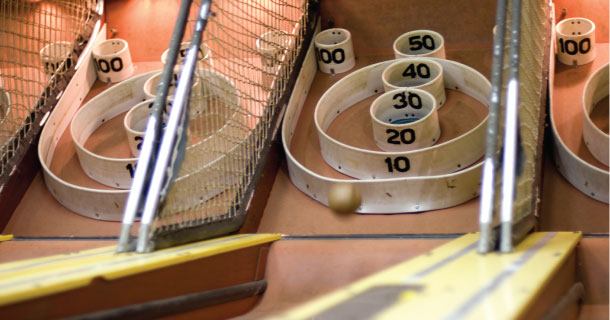 A group of kids playing tag the other day reminded me of the importance of having a strategy and sticking to it. As I watched, I realized that each kid who was it had his own strategy for tagging others. Some relied on the taunt and tag while others depended solely on their speed and agility. But then one of kids was it and it was evident that this kid had no plan at all. He made a feeble effort to run after anything that moved. He took a few steps this way and that, taunted a few kids, tried stalking kids around the safe area, but he was tired, not thinking straight, and had no plan.
I finally couldn't take it anymore. I called his name from the sidelines and said, "Pick one kid and stay on him until you tag him. You need a strategy." He nodded, went back to the game, and within a minute, had tagged someone.
As I drove home, I started thinking about the different strategies we use for different games. Think about Monopoly, for example. Are you the type of person who hoards money? Buys every property you land on? Do you skip the first row entirely when it comes to property consideration? Do you use your Get Out of Jail card or try rolling doubles?
In checkers, do you keep your back row full so the opponent can't get a king? Or do you take an offensive stance by getting as many kings as possible?
At our last ENCORE meeting (my coaching group that meets monthly), one of my clients revealed that she will sometimes go to Chuck E. Cheese at lunch and play skee ball. That ignited discussion about skee ball strategy. Do you bowl up the middle or do you bank it off the side? Do you underhand throw or overhand slide it up the lane? Do you go for the 100 point hole in the corner or stick to the 40 point cup and if it goes in the 50, great, but it is okay if it lands in the 30 as well?
Now my favorite game is Risk – the Game of Global Domination. I am ruthless. I am not going to share my strategy with you because that would defeat the purpose if we were to ever play together, but I can tell you that my strategy is different than anyone else in my family. Mine works – theirs doesn't. HAHA!
Which leads me to real estate. Take a look at any successful real estate agent and you will see that they have a strategy that is unique to them. Perhaps they provide expertise-driven research to their past clients each month or have multiple past client events throughout the year. They might do weekly videos or dominate a geographical farm or niche. I bet if you asked, they could point to a few things they do on a consistent basis that they rely on to bring them business year after year. Having a go-to strategy is important for long-term success.
But what if you think about your business and you realize you don't really have a strategy? What if you are the boy who is it who is lurching around the field, hoping that someone will happen to run by him so he can just reach out his hand for a tag?
Hoping is not a strategy.
Lurching around, throwing money at online lead generation, CMS systems, or generic marketing without a strategy takes energy and money.
Once you determine a strategy that you are going to develop, you have to refine it and give it time to work. For example, if you decide your skee ball strategy is to bank it off the bumper at the side and shoot for the 40 point hole at an angle, you can't expect to master this technique after three throws. You need to find the bank sweet spot, determine your speed, and how you throw the ball. If you don't take the time to refine your strategy, then your score will reflect that. Same with real estate.
Sometimes we have to take a time out due to personal reasons and when we are ready to join the game again, we realize that something has changed and our previous strategy just isn't working anymore. Perhaps the market has changed or we have personally changed. I call this losing your mojo. If that sounds like you then take the time you need to get your energy back, rework your strategy, and give yourself time to implement your plan.
I would love to hear your strategy for real estate, but I would also love to hear your Risk tips to see if there is anything I am missing!
And if you take a look at your business and realize that you don't have a strategy or your strategy worked a few years ago, but needs to be refined, that is what we specialize in and we can help! We can be that person on the sidelines, analyze what you are doing, and provide the advice you need to master your game.
Read more about how we help agents.   If you think we can help you and would like to know more, we would be happy to set up a free consultation to learn more about your business needs. Send an email to [email protected] and I will personally be in contact with you.
---
Photo copyright to Scott S.