We have a new employee at The Lones Group this week (welcome, Izabella!) and with it came the usual reconfiguring of desks and equipment. The plan is in place and by the end of the week, furniture will be moved, vacuuming of baseboards and spaces behind desks will happen, people will move around and starting next week, there will be a renewed energy in the design office.
We even have a fair amount of old electronics that are being disposed of as well as some random 3.5″ floppy disks (yes really!).
Ahhh!
Creative people, like my design team, need visual disruption from time to time. If you rearrange the furniture in your living room, bedroom, or even switch sides of the bed once a year, you know what I am talking about.
As we move from spring to summer, this might be a great time to look at your business space and see if it couldn't benefit from visual disruption. And although you may indeed be due for a complete office remodel, here are 15 easy-to-implement ideas to get your creative juices pumping now!
Deep Clean
When you do a deep clean, I mean vacuuming out your drawers clean, you will automatically freshen things up because you have no choice but to reorganize and purge. But if you are not up for that, these next 14 ideas are for you.
Change Your Screensaver
Whether you use your own photos or have a theme downloaded, changing your screensaver seasonally is a great way to bring a smile to your face when you boot up.
Change the Colors on Your Calendar
If you use Outlook or Google Calendar, you can change the color that your events show up as well as the colors of other calendars that you have linked to yours. Many online calendars have color settings you can edit.
Change Your Project or Client Boards
If you have a white board or bulletin board in your office, take a photo of it, then clean it off and start over. If you are using a white board, there are plenty of different colored dry-erase pens that you can put to good use. If you are using a bulletin board, consider changing the tacks or compartmentalize the items differently.
Appreciation Front and Center
Do you have somewhere close where you keep cards from clients? They make a great pick-me-up when you have had a bad day.
Ditto to Gratitude
Some of my clients keep photos of their clients standing in front of their homes in a corner of their bulletin board for the same reason.
Change Your Artwork
Do you have the same tired artwork on your walls? Change it up! Even if you move artwork from one wall to another, it can really freshen up a space. Consider changing photos or even just the frames on your desk.
Rearrange a Bookcase
Even something as simple as cleaning a bookcase, rearranging the items, and sorting by color can liven things up.
Bring in a Plant
Or five!
Get a New Lamp
HomeGoods, Ross, Marshalls, etc have plenty of lamps. Find something that makes you smile!
Change Your Pen Cup
Yes really. And choose some really great-feeling writing instruments to go in it.
Change Your Chair
There was a fair amount of chair swapping that also occurred this week. Maybe sitting at a slightly different angle will change your perspective.
Red Stapler Anyone
Get colorful binder clips, a snazzy stapler, or even a zebra tape dispenser (like mine)!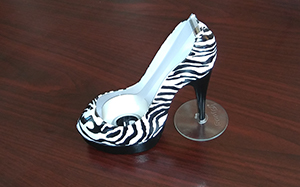 Your View to the World
If your office has a window, does it frame an outside scene nicely? If not, can you add a pot, a special piece of yard art, or something interesting to the scene?
A Space to Recharge
There are times when you still need to be productive, but you just can't fathom doing one more minute of work from your desk. In that case, having a comfortable seat on the other side of the desk or room that you can move to for a while will help you get the change you need – for both your brain and your bottom!
Visual disruption can be just what you need! How do you keep your outlook fresh feeling? Treat yourself and enjoy!