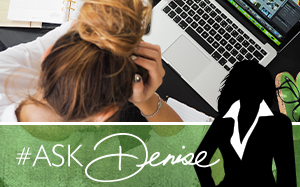 Q: "Denise, I'm exhausted. I feel like I'm always chasing solutions and never have enough time for myself. I have to start saying no to something, but I don't know where to start and I'm afraid of sounding rude."
A: Being over-committed is something many real estate agents struggle with. I've been there myself. You are right, you need to be able to say no to something. You need to set boundaries on how you spend your time. Saying no does not have to be rude and it doesn't mean lower quality service for your clients. It does mean looking for places in your business where you can regain control. In fact, having the right kind of "no" might even result in better service and even create new opportunities for you. Here are some of the different ways to say "no" that can give you more time, energy, and focus.
 Sometimes "no" means saying it to yourself and delegating a task instead.
"No, I'm going to have the car wash clean my vehicle for me before doing showings this week."
"I am going to have someone else write content for my monthly marketing so that I know it will get done."
Sometimes "no" means being prepared in advance or having a system to follow.
"I don't have to worry about running back to my house to get a measuring tape, water bottles and snacks for clients' kids because I have that in my car trunk already."
"I have a checklist for my marketing system. I know it works when I follow it and I do not need to spend money and time on a single-listing website."
Sometimes "no" means being able to articulate your value.
"I don't have to cut my commission because my history shows that my skill and marketing means my listings average higher in price on closing than my competition, often with fewer days-on-market."
Sometimes "no" is setting expectations and boundaries in advance.
"I take calls between 8am and 8pm. I am not available on Mondays."
"My area of expertise is X, if you want to look at homes further away, I will find an expert in that area for you."
"Today I am only looking at email from 11am to noon and 5pm to 6pm."
"My voicemail informs callers when I return calls during the day and how to reach me if there is an emergency."
Sometimes "no" means offering an alternative solution that saves you time and is backed up by your expertise.
"Pricing your home above market like this will likely result in it taking more time and you receiving less in return."
Sometimes "no" is keeping to rules in your business that prevent you from wasting time and being distracted.
"I only do Facebook during lunchtime because it is too emotionally draining and not productive."
"I will turn my phone off during my business planning time and hour-of-power."
"I will not unlock doorboxes for buyers I haven't vetted."
As you get stronger and more skilled at different kinds of "no," you will find many other places where you can use its power to make your business stronger and give yourself room to breathe.