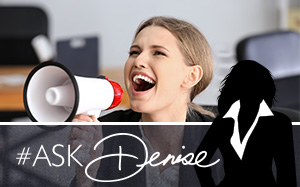 Q: "Denise, I want to drum up some business in my farm area before the end of the year. I have been sending a regular monthly update via mail, but want to have a good call-to-action to get people to do something. What do you suggest?"
A: If you have already been sending out a monthly mail piece that shows market information, I would suggest sending something out in November that has a different format, such as a letter in an envelope.
That letter needs a strong call-to-action.
Is there current real estate market advantage that won't be around forever? Inventory advantages, interest rates, new developments are all examples of content that can be utilized to create urgency.
What could you offer? A CMA or a Annual Client Review? Give them the gift of personal work as a reward for reaching out.
Is there a special service you offer that is compelling that you would like to show people? Think about services such as drone photography, video, 3D tours, curb appeal makeovers, staging, etc. If you provide something special with your listings, remember, not everyone knows what that service is. They are curious. Even if they are not ready to list, remember, once they learn about your point of difference, they may be likely to refer you to others who are.
A gift! You could host a local giveaway such as holiday pies or cookies. Invite your farm folks by in a special open house to pick up their gift.
The goal for you is to have a live interaction. Think about what you can offer to generate that live engagement.