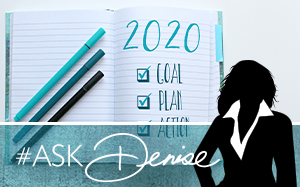 Q: "Denise, I am looking forward to it being quiet for the next couple of weeks in my business. I will be doing some fun things with my family, but do you have any suggestions of how I can put a couple of days of quiet time to good use?"
A: I certainly do! In fact, if you have two full days to devote to your business, here are seven great things you can use that time for that will set you up for 2020:
Annual Client Reviews – Although you may not have time to get to all of them, two days is plenty of time to create property reports for many of your past clients.
Create a Year-End Robust Market Report – Although you won't have all the numbers ready until the new year, you can gather the rest of the data, download my 2020 predictions.
Plan a Client Appreciation Event – If you are thinking about an event this spring or summer, now is a great time to plan.
Potential Client Tracking System and Materials – You may have your "pipeline" in order, but are you really working it by sending out personalized information and reports? If not, make a plan and reap the reward of conversion in 2020!
Clean Your Office – If the clutter has piled up, start the year with a clean slate by clearing out that clutter.
Tech Declutter – If your email filing and archiving is out of hand,  your computer files are a mess, and it has been ages since you have done a backup, get your tech house in order.
Get on Track with Your Finances – Have you made all the contributions you should to your retirement in 2019? Are all your expenses accounted for? Do you have an accountant you are happy with and have reviewed your tax strategy with? This planning can be worth its weight in gold!