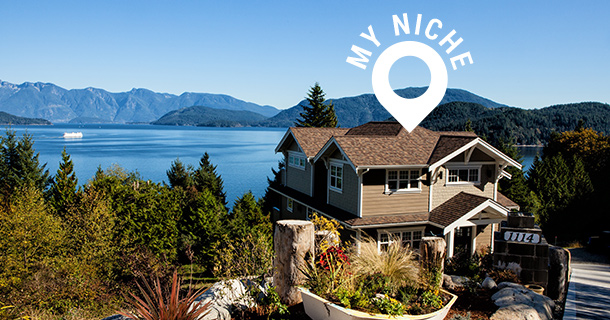 Hi everyone. Welcome to this week's edition of the Zebra Report. Today, I wanted to talk about niche markets. A niche market is defined as a smaller part of a larger market with its own defined area of specialization.
The perfect example of a niche market in real estate is waterfront property. I happen to live on a lake and I have learned a thing or two about lake front living that I had no idea about before I became a lakefront property owner. I've now been here for over 14 years and in that entire time period I would say I have probably received maybe half a dozen pieces of really good marketing information from a real estate agent stating that she knew a little bit about lakefront properties.
The interesting thing, however, is that she stopped sending out her mailings. I have no idea why she stopped but I was starting to really enjoy the good quality content she was sending. What is fascinating to me is just how everything in life seems to be about timing and if I were thinking about moving now or in a year or so she would no longer be top of mind because she stopped. Naturally if I were getting regular mailers from an agent who said they were a lakefront real estate expert I would call that person but not now because all contact from her has ceased. So that person, the one person that was in contact with me now is not. And I always tell people that the key to success in real estate is about staying in touch with people and delivering a consistent message.
So what is your niche market, do you have one? What are you good at, what is your area of specialty or interest? Whether you are waterfront expert or an equestrian expert, having something that you know more about than anyone else is really, really important and compelling to potential clients as there is nothing like knowledge and confidence to attract people to your business.
When choosing a niche market, you must examine the market for opportunities. For example, there are a lot of opportunities right now in many markets with absentee owners. Absentee owners do not live in the property and often live a few hours or a few states away. Absentee owners often sell their existing properties and upgrade to bigger investments which is a great way for them to maximize their investments. It is also a fabulous way for any agent to help these sellers both sell and buy. This is a great opportunity.
There are so many niche markets in real estate. The problem many agents face is that they are generalists and often find it hard to get new leads. And while being a generalist is good because you have a broader base of potential clients who might be interested in working with you, it does not mean they will. You have a much better chance of having someone call you if you are an expert or a specialist in the type of real estate they are interested in buying or selling.
Imagine you are a lakefront real estate expert and you consistently market to me because I live on the lake that you specialize in. If you prove to me through your mailers that you knew a thing or two about shoreline issues and living on a lake versus there is a pretty good chance I will call you when I go to sell my property.
What I love about niche markets is that they provide a fantastic opportunity to showcase an agent's area of expertise. When I think about niche markets, I think about surgeons and doctors. You do not go to your family doctor when you need knee surgery, you go to a specialist. In any business, there are those people who are generalist and those that are specialists. I really encourage you to think about finding an area of specialty so you can leverage your knowledge in that area. Once you have chosen your niche market you then need to share your knowledge to those potential buyers and sellers out there that are in the market to do something within your niche.
It is never too late to create a niche market. I have agents that have been in the business for twenty-five years who have come to me and said, "you know, I just want to do something different. I want to take it to the next level." I will often say "have you ever thought about creating a niche market?"
I really encourage you to think about it, to research it. There are so many niche markets out there that I do not have enough time on this week's zebra report to list them all. I really encourage you to think about where you have lived, think about things that you are interested in, things you have special knowledge about. Perhaps you have always wanted to be a luxury agent or an equestrian specialist, why not do that now.
Thank you for joining this week's zebra report and I look forward to talking to you next week. Don't forget, niche markets are how a lot of agents get rich.
By Denise Lones CSP, M.I.R.M., CDEI – The founding partner of The Lones Group, Denise Lones, brings nearly three decades of experience in the real estate industry. With agent/broker coaching, expertise in branding, lead generation, strategic marketing, business analysis, new home project planning, product development, Denise is nationally recognized as the source for all things real estate. With a passion for improvement, Denise has helped thousands of real estate agents, brokers, and managers build their business to unprecedented levels of success, while helping them maintain balance and quality of life.