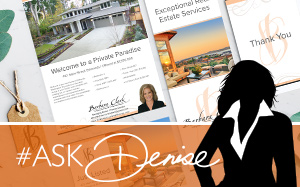 Q: "Denise, I have been using my brand for about ten years now. I got a new photo recently and want to change that on my materials and I am thinking about redoing a few things on my brand. You know, lighten things up a bit, rework some of the fonts, adjust some of the colors. Nothing major, but just give it some new life. What do you think?"
A: We have agents who refresh their brands with us all the time! I liken it to painting a room or changing out artwork. Sometimes we just need a few tweaks to make it feel new again or to tell your new and improved story. Our stories change all the time. So do major corporations. Think about Pepsi, Google, or even many of your real estate companies. They refresh their brand – help their brand evolve – for new market opportunities, to stay relevant, and to send a new message to their clients. It might be time for you to do just that – not a complete revolution, but an evolution of your brand.
Reach out! We would love to help.