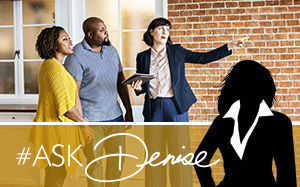 Q: "Denise, I have had a strong business for many years now and I am looking for a way to streamline my time. Not working with buyer leads seems like a great way to do that. I am looking for a buyer agent, but I am not sure what I should be looking for. I assume I want someone licensed, but what else?"
A: Good for you for leveraging your time! This can be a very strategic move, but the challenge that a lot of agents run into when they try this are two-fold:
1. They hire someone with too much ambition who should never have been hired to the position in the first place and after a few months, they find themselves back at square one OR
2. They hire someone with great people skills but not enough follow-up skills, they don't follow through and close anything and give up, leaving the agent, again, back at square one.
To avoid these common mistakes, there are a few key ingredients to hiring – and training – a buyer's agent:
1. Personality Type – The best personality type combo for a buyer's agent is a supporter-analytical. The supporter personality type will provide great customer service to your buyers. The analytical type will be detail-oriented and will take care of business. All-to-often, strong real estate agent personality types (Promoter-Controller, Promoter-Supporter) will look for a buyer's agent that is just like them. But if you want a harmonious team, trust me, look for a supporter-analytical or analytical-supporter. If you aren't sure how the personality types pertain to you or your team, I encourage you to take our free personality test on our Club Zebra website.
2. New or Seasoned? – There are benefits to both! New agents won't have the bad habits that years of doing business haphazardly but seasoned agents won't necessarily need real estate business training (such as forms management and handling the legal side of things). Sometimes a newer seasoned agent (around two years in the business) is a good fit if they aren't making it on their own. Working alone is very difficult for people who don't have that natural inclination to hunt for new business.
3. Training For Your Systems – Even if you hire someone seasoned, don't make the mistake of assuming they will know exactly how you want things handled. Go over your expectations for generating their own leads, handling your leads, how your system for following up with potential clients works, your buyer checklist, the pending to close process, and how clients are handled post-close and beyond. If you have other team members such as transaction coordinators, marketing professionals, social media coordinators, be sure to include their roles in that training. The business should feel cohesive – not like you are both running independent businesses side-by-side. Communication and keeping the buyer agent in the loop will make your team stronger.
4. Reporting Expectation – One of the biggest complaints I hear from agents who have hired a buyer's agent is that there isn't enough converting happening. Usually this is because the agent doesn't have a system for following up with the leads AND there isn't enough accountability on the part of the listing agent. A weekly reporting expectation will keep everyone on the same page. Have them send you a weekly report with the status of each lead and buyer that is in their court along with their last communication date, what format that was in – call, email, text, mail, etc, and what was communicated. This allows you to not only track what is happening, but provide feedback and ideas for success.