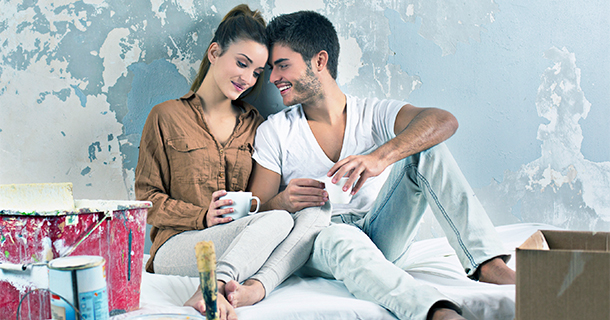 The TV shows make it look so easy. Who wouldn't want to take a home, make it look stunning, and flip it for a profit? As real estate agents, you have probably been asked by a buyer or investor to find them the perfect "flip house."
According to Realty Trac's U.S. Home Flipping Report, fewer single family homes were flipped in 2014, falling to a two year low. Almost 5% of U.S. single-family home sales are comprised of flips, but that number is down from 6.2% in 2013. This decline is expected after the flurry of flipping that went on during the downturn in the housing market.
The average gross profit for a flip is $46,000 or a 21% gross return on initial investment. So you can see why many buyers get excited about flipping!
If you have a buyer or investor thinking about flipping a house, the first two things you need to be aware of are the ideal location and the ideal timing to flip a home in that location. Timing in the market is key. There are moments in time when some locations make better sense to flip due to demand. And within those ideal windows of opportunity, there are additional criteria to be aware of. Don't assume that you know what your buyers want when they ask you to find them a flip home. Make sure you know what their flipping goals are so you can determine the right target properties.
Here are some interesting facts about flipping you might want to share with any buyer thinking of flipping a property:
Location, location, and neighborhoods – just because you can buy a home at a discount doesn't mean you should. Flippers tend to make more money when they stick to the properties that may not be as deeply discounted, but are in good neighborhoods. The number one mistake flippers make is they focus on the discount of the property and not the final potential selling price of the property.
Timeline – The average flip takes just over 6 months or 188 days. That number is up from the previous year's number of 165 because it is getting harder to get good tradesmen because they are busy. When any part of the flip project is delayed because of a trades schedule it backs up the whole project.
Budgeting for the unforeseeable – When you flip you must account for "under the radar" problems that will inevitably come up. I have never renovated or flipped a home myself that didn't have some unforeseen problem that had to be addressed – even when I had the most thorough inspection done! I suggest budgeting at least $10,000 to every flip for these challenges. Even if nothing comes up the flipper will have a little extra in reserve in case they want to upgrade the finishes or add in a sky light.
Opportunities exist at different price ranges – Buyers tend to be more comfortable with flipping lower end homes, but there is a great deal of potential in flipping the higher end product too. Although the higher end market (over $750,000) only represents about 5% of the flip market, it gives the greatest return on investment (41% ROI!). But investors have to have deep pockets and be able to take a deep breath when dealing with this kind of house flip. When done right and with the right timing it can be very profitable. But if it goes wrong, it can be very costly. As an agent, prepare your investor buyer for the pitfalls of this kind of flip and point out the cash reserves that are recommended for this kind of flip – and the nerves!
Flipper Personality – The final thing you need to talk with your buyers about is whether or not they have the determination and the organizational skills to see a flipping project through to completion. I have NEVER done a flip or renovation that ended up exactly as I had planned. That is part of the fun – and challenge – of flipping homes and doing home renovations. Some people aren't comfortable multi-tasking, dealing with challenges, and scheduling issues. Take the time to talk to your buyers about whether or not this is the right thing for them and ask questions that will get them thinking about the realities of flipping.
Home flipping is not for everyone. Your role in helping the flipper buy their property is critical because the profit in a house flip starts with the purchase of the right property. Your guidance and expertise is critical to the flipper's success.