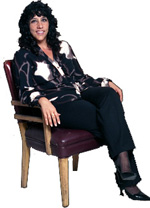 Q:  Denise, I would really like to take some time off next week, but I have this one client who won't stop calling me! She is a buying a high end home with me and she is calling me like three times a day. If I don't answer, she leaves me a very long message and if I don't return her call within the hour, there she is calling me again. How do I take this time next week without having to turn my phone off and burying it in my closet?
A:  What you need here are some rules and boundaries. Remember last week's Zebra Report when I discussed rules? This is a great opportunity for you to practice! If your rule is that you are going to be off next week, then that is your rule and you have to be the one to enforce it by setting the expectation. You can take a look at the "saying no" example from last week's Ask Denise where I talked about the "no sandwich". Here is how this might work for this example:
"Mary, we have covered a lot of ground this year in finding you a new home and I am excited to go out looking with you again in 2015." – This is your "yes" statement – the bread.
"I am going to be taking next week off to be with my family. If you have questions about any homes next week, you are welcome to send me an email, but just know that I won't be returning calls or emails until the 29th." – This is your "no" statement – the filling.
"Let's schedule some time to go out looking at new homes on the market either the 29th or 30th." – Another "yes" statement – more bread.
Then to reinforce your rule, leave a message on your voicemail message that reiterates that you will be returning all calls and emails on the 29th.