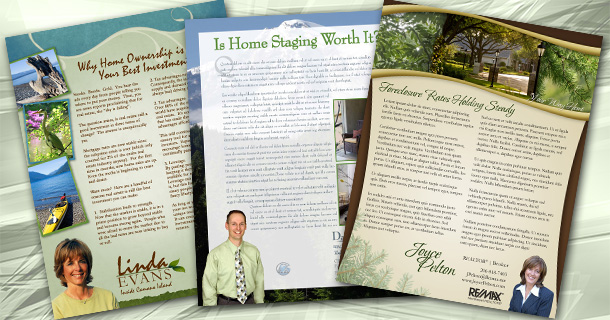 When I was a top-producing agent, I discovered one of the most powerful marketing tools I've ever used in my marketing career. No matter what new company or real estate agent or business I find myself involved with, I try to convince them to use it … because it works.
What is it? Articles!
Writing articles—whether in the form of a mailed-out article to your database or for local newspapers, trade journals, websites, or magazines—adds to your credibility because of the implied third-party endorsement. In other words, if you're expert enough to be in print, the publication is perceived as endorsing you. It's like getting someone to say, "This person is qualified. Listen to what they have to say."
People expect you to sell to them, but are much more impressed when you start to solve their problems before they even ask. For example, in one newspaper they may see an ad for "Jane Smith—Realtor" with Jane's smiling face and a few homes. What do they know about Jane? Not much except she wants to sell you a house.
But in the same newspaper, Ann Jones has an article entitled "Ten Questions You Might want to have a builder answer for you before getting him to build your house." In effect, Ann Jones is saying "I'm on your side and I know what I'm talking about. Let me help you." Instant credibility!
Today's consumer wants an expert. You have to position yourself as an expert, act like an expert, and look like an expert. It doesn't matter if you're a real estate agent, title company, mortgage broker, dentist, attorney, bread baker, or candlestick maker. Any professional benefits from having his or her expertise in print.
BUT…an article is not an advertisement in disguise. You have to be careful not to push your services, but rather solve a problem. Otherwise, people will see right through you and turn the page. When you don't ask for anything in the article, they are much more inclined to trust you.
So how do you implement an article campaign?
First of all, develop a plan. Start with a "wish list" of the publications your prospects read in which you'd like to be featured. Plan on a minimum of six to 12 articles per year. Call your local newspaper and tell them you have a great idea for an article and you'd like to know what they think.
What if you're not a writer?
Guess what? I'm not a writer either. I'm a talker. One way to get around this is to talk your article into a tape recorder and get it transcribed. You can even hire a professional writer if you want to add flair to your words. The expense is often worth the investment for your reputation. Just ask a few business owners you know and you'll find one quickly. Or place a classified ad in your local paper. Or do a web search for "copywriter." There are plenty of them out there.
Then, sit back and relax while you watch your database send you messages like "Hey, I read your article on investing. That was great! I gave it to a friend of mine looking for investment property." Who do you think that friend is most likely to call?
Don't think anyone would print your article? Well, I have good news for you. Publications are starved for material. Think about it. They have to fill a certain number of pages every day. You don't need to be Ernest Hemingway to get in your local paper. Newsweek and The New Yorker can afford to be picky, but The Smallville Times will accept almost anything that's remotely well-written and serves public interest.
So, get out your laptop, old typewriter, or No. 2 pencil and get a few words down. Talk in terms of solving people's problems. Picture a client in front of you and write what you would say to them in person. Tell them what to look out for. Advise them with your market knowledge.
And when your name appears under a headline, listen for your phone to ring.