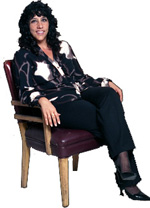 Q:  Denise, I always wonder about what I should send to my clients this time of year. I usually just send a card, but others in my office are giving their clients wreaths, pies, and cookies. I do send a meaty personalized report in January, but am I missing the boat here? Should I just buck up and don an apron?
This is a great time of year to connect with your clients, but it is important to do it the way you feel most comfortable. If your comfort level is to give your clients the gift of time by creating a meaty customized report, then that sounds like a great fit for you. Others feel they want to give a gift of food, gift certificates, or ornaments. There is no right and there is no wrong. Each agent and client relationship is unique.
Don't don the apron if it doesn't feel natural to you. Sharpen your pencil, create the report, and perhaps add that personal element by giving your clients a call and seeing if they have any questions.