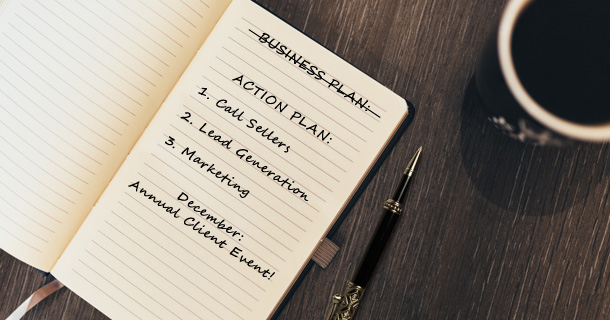 Agents near and far have been clamoring for a meaty business plan template for 2016. However, my recommendation for 2016 is to keep it short, sweet, and only focus on the action items that are going to bring you business.
"But Denise!" they say, "Where do I put my income goals? Where do I put my transaction goals? Where do I track my income?"
Let me be very clear. Having income and transaction goals is important – very important. So is tracking. But if every year you make a business plan and then it sits on a shelf, what you need is a very simple action plan that focuses on your three buckets of business:
Your business revolves around keeping these three buckets full and happy. So the actions you take in your business need to support that singular goal. Let's take a closer look at the buckets:
Potential Clients – these are people who have said they are interested in buying or selling in the next year. You fill this bucket via your lead generation method(s). If your lead generation method is mailing to a farm area, then your corresponding action item is to create a mail piece for the farm and send it every month. If your lead generation method is open house, then to keep this bucket full you need to have several open houses as part of your monthly action plan.
Once you have people in your bucket, you have to keep them there through great communication about their particular transaction. Say you have four potential buyers in your bucket who aren't quite ready to buy yet. How do you keep them in your bucket and out of someone else's until they are ready to buy? That takes planning and a weekly action item. I am not saying you necessarily will be following up every single week, but the action item should be to analyze your bucket every single week and determine what excuse you could possibly have to reach out. Perhaps the area they want to buy in has some new construction going in. Perhaps interest rates are going to go up. Dig deep and find an excuse to reach out with custom communication at least once per month, but keep those names on your radar every single week.
Current Clients – This bucket naturally will get the most attention from you because these are the transactions in front of you. Current clients who are between pending and close will have their own timeline, so you don't need to add them to your action plan. But current clients who are either active buyers or listings do need to be on your action plan. If you have an active buyer, having a time each week to regroup and make a plan is important. For sellers, be in touch each week with a Marketing Activity Report which summarizes the showings and feedback, marketing you have done, online traffic, offers or calls you have received about the property.
Past Clients – Your past clients do need some extra attention from you by way of a report, like the Annual Client Review or a Client Appreciation Event. These are both annual events.
All of these buckets should also be in your database, which also gets a monthly action item – a mail piece with your brand that updates recipients on the market in their area.
When I was selling real estate, I kept my action plan as simple as possible which gave me the time I needed to be flexible and give me only a few planned tasks to manage. My action plan looked like this:
My Friday "Marketing" task was to send out any marketing that I did around my listings (such as Just Listed cards).
I didn't have daily tasks – those were taken up by my current clients. So I only had to reach out to my sellers on Mondays with the Marketing Activity Report, Wednesdays I focused on lead generation (planning for open houses or my expired listing campaign). Then once a month, I did mailers to my database and my farm area. Annually I took care of my past clients with an Annual Client Review and a Client Appreciation Event. That's it! No fancy business planning document required. I sold over 100 homes per year with this simple action plan.
Here is what this looked like in calendar form:
That is it! Don't over complicate your 2016. Give yourself room to be the great client care-centric agent you are. Take care of your buckets and your buckets will take care of you!
---
I am making the above Action Plan a free download: Get it here!
However, if you need help creating your action plan and taking care of your buckets, take a look at our business planning tool: Business Blueprint Center – Your Real Estate Business, Perfected.
We will show you how to build your action plan taking into account your strengths, your challenges, your personality, your database, preferred lead generation style, and the needs of your potential clients. The result is an easy-to-follow action plan that you can follow year-in and year-out:
The Business Blueprint Center Includes:
Business Blueprint Center manual
Access to the Business Blueprint Center online classroom, complete with resources and videos
Personality Analysis and results
Business Analysis and results
Private Defining Your Blueprint call with our Business Blueprint specialist
12 months of Club Zebra PRO
Eleven lead generation guides
Master Follow-Up Plan via Club Zebra
Potential Income Tracker via Club Zebra
Accountability Tracker via Club Zebra
Articles for your database and blog content via Club Zebra
Monthly group Club Zebra calls with Denise Lones
All for $257!