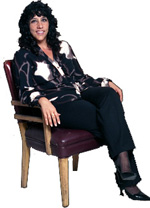 Q: "Denise, you addressed databases in the Zebra Report last week and I hate to admit my database is a mess. I have a leads database which is automatically populated from my online lead source, an old database from my previous career (I have some people who I still reach out to), and I have a bunch of new names in Excel and even on Post-It Notes on my cork-board. I want them all in one place and I don't want to be duplicating my efforts. Help!"
In an ideal world, you would have all the names be in one place with different categories of client (such as past clients, perhaps friends, family, any special niche lists that you are working with, and potential clients). In that program, you need to be able to add a number of different information fields (such as name, site address, mailing address, phone numbers – multiple, email addresses – multiple, and possibly things like birthdays, close date, kids names, pet names, and the ever-important notes).
The most basic way to track this is through Excel since all you have to do is open the file and all of the information is right there. However, Excel isn't ideal for categorizing clients in multiple ways (for example, a past client can also be a potential client if they are thinking about moving again) and it doesn't have the functionality for adding extensive notes.
Outlook has many of the features that people need to create functional databases including the ability to categorize, add multiple fields, add notes, and it is easy to track all your email communication. Additionally, I can send email campaigns and create labels easily. If I were starting a real estate business from scratch today, I would probably be using a program like Outlook to create my database. Also, since I already use Outlook for email, using the contacts feature to create a database doesn't cost me a dime.
Some other agents use programs that have additional bells and whistles such as Top Producer, ACT, or the many CRM programs out there. Some of these are provided by real estate companies. Some cost money. Before you move forward with any CRM, I suggest you evaluate the functionality (watch YouTube videos and read online reviews) before moving forward. Make sure you have a plan for incorporating those bells and whistles into your business. I like to think of it like this – you need the functionality of a Toyota but are paying for a Lexus. Don't pay for more than you need. Know what you need before you buy.