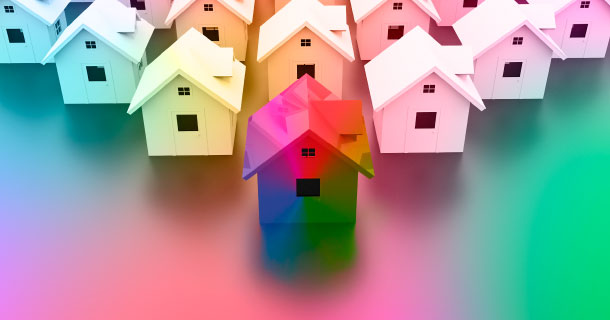 Summer is here, and potential buyers and sellers are experiencing different levels of real estate urgency. Some are rushing to make that summer time purchase or sale while others are basking in the sun with no desire to even think about making a move because they are so busy enjoying the weather. Summer is a very interesting time for real estate agents because while some of them are super busy with hardly a break since early spring, others are twiddling their thumbs wondering when their clients will decide to make a move.
There are many different moods to the summer season in the real estate industry.  Just like colors of a rainbow every buyer or seller has their own idea of the perfect time to get into the market.  Have a look at the different color personalities and try to identify your potential clients in this list, it might help you understand them more.
Red –  This client wants to buy or sell now and they expect exceptional client service NOW.  They are red hot and ready to go and you need to be in continual communication with this client or they will go elsewhere.  The key to keeping this client happy is through consistent communication.
Blue – This client needs information and they won't make a decision until they are absolutely certain that you have provided them every piece of data or research to make sure they are not rushing into something they might regret later.  They are slower paced than the red clients and they take longer to decide but once they do they expect you to act quickly on their behalf.  The key to keeping this client happy is through good data and thorough regular research.
Green – This client's main focus when buying or selling is whether or not they are paying too much or getting enough.  Money is their main motivator when buying and selling and to keep this client happy you absolutely need to educate them on the market and to show them ways to maximize on their buying or selling experience.  The key to keeping this client happy is to focus on the financial analysis side of the transaction.  They love spreadsheets and comparisons and this is the way to win their real estate heart.
Yellow –  This is your mood buyer or seller and you have to be able to handle their moodiness when buying or selling.  You could be with them one day and everything seems to be full steam ahead and the next day they could be putting on the brakes.  The key to keeping this client happy is through consistent calm communication and gentle negotiation.
Orange – This is your full energy client who has the stamina to look at every home the moment it comes on the market and they expect you to give them almost daily updates.  This type of seller expects very visual and dramatic marketing and they expect their agent to have state of the art technology.  The key to keeping this client happy is through daily updates.
Purple – This is your highly relational client who needs regular phone or in person communication.  Email is not enough for this type of client and if you don't connect with them this way you will lose them as a client.  The key to keeping this client happy is through regular phone or in person meetings and strong listening skills.
No matter who you are dealing with this summer, just remember that every client is different and their timeline to buy or sell will vary.  Don't treat every client the same because if you do you will lose the ones that you are not treating the way they need to be treated.  The summer is an excellent time to read your clients actions and determine what they need.  The hues of the summer are as varied as the housing inventory in our market.