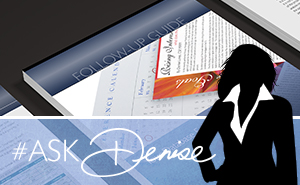 Q: "Denise, I had an "Aha!" moment this spring when I heard that one of my past clients had sold their home and bought with another agent. I was devastated because I thought for sure that they would seek me out when they were ready to make a move. We had such a great relationship! However, I am completely to blame for this because I have NOT been in touch. Not a card, not a phone call, not a report, no market updates and I didn't even reach out to them after the sale except once or twice in the first couple of months.
"My "Aha!" moment turned into weeks of depression as I decided to get my act together and really work on my database as I have heard you say a number of times (pretty much every class of yours I go to!). As I was in the tax records, finding my past client addresses, imagine my shock when I learned that about 15% of my past clients have moved. I would guesstimate my lack of follow-up has cost me well over $100,000 in the last couple of years alone.
"Which leads me to my question. Now that I have my database together, should I start with an apology? Just start mailing? Call them all first? What do you suggest?"
A: Sometimes the moments that make the greatest impression are the most painful.
Although I am sorry that you have lost all that commission, this is a hard lesson learned and I am glad you are ready to get serious about taking care of your past clients (and your sphere and your potential clients).
The mailing plan I recommend is a simple one – mail monthly, and make sure the information you are sending them is about the market in their area and information they need to know as buyers, sellers, and as homeowners. Your mailings should be branded to YOU – not some random fluff piece you got from somewhere because it was EASY. In order for your correspondence to be effective, you need to take time to do it each and every month.
Get a system in place – get your templates built so you don't have to reinvent the wheel each month. You can easily build a quality mailer in about an hour with a little practice and a system.
In terms of the content for that starting communication, I would not bring attention to the fact that you haven't been in touch. Just simply put together quality information, invite your reading public to reach out if they have questions, and after sending a few you can always use that as an excuse to reach out and see if they have any questions.
---
If you need help with ideas for your mail marketing, you can download our white paper here: