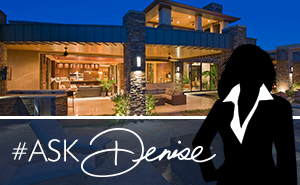 Q: "Denise, I have a high end listing coming up. Very high end. There aren't even any comps for this listing. I think I have the pricing end figured out, but am having a difficult time getting my head around the specialty marketing end of this. I don't want to overspend on marketing, but definitely want to develop a strategic plan and hit the potential buyers who are most likely to get excited about it! What do you think I should include?"
A: This is a great opportunity to push yourself and learn new skills. Although you may need to tweak this list a bit depending on what is appropriate for your area, here are a few things I would include:
Professional photography – you must make sure the photography is top-notch.
Video – I mean an actual video, not stitched-together photography. If you can introduce the property, provide voice overs for the tour, and then create a closing with you in it, that would be ideal (and a great future marketing piece for you!). Drone video should also be included.
Luxury sign – If your company has a luxury program, this is the time to get on board with a luxury sign in the front yard (if appropriate for the area and the listing).
Print Materials – Pull out the stops with a multiple-page brochure. I have seen agents build a booklet with all the photographs included along with an amenities list. Then these are nicely bound and available inside the home.
Online – If your company has a membership to luxury property websites, now is the time to get familiar with these and make sure your listing is syndicated there and the extras such as the video are also linked as you are able.
Now, you may run into a sticky area here depending on how discreet the owner wants this listing to be. But assuming the owner wants their house sold, then if it is a unique property, then now is the time to connect. Connect with luxury agents in the area and beyond who work regularly with that type of clientele. Connect with local community-minded websites and publications that regularly feature unique properties. Connect with the movers and shakers in your community who potential buyers for this property may have a connection with.
The other thing I would do is put yourself in the mind of the potential buyer for this property and think about how they might find this property. I have had a number of clients find success by hosting an event and strategically inviting move-up buyers. For example, let's say this was a $4 million property. You might invite people who own $1.5 million properties and up who have owned their home for a certain number of years.
Or if you are selling a property with a very special feature such as high-end equestrian facilities, an outbuilding that is designed for and features collectable cars, or even a property that has a dock equipped to land a seaplane, these are all features that can be marketed to a specific niche market.