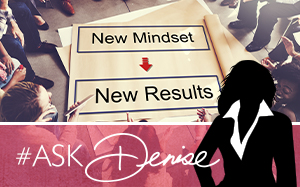 Q: "Denise, I just lost another listing and this one was with a past client. I am crushed. Another agent came in promising a listing price that I know is too high, drone photography, and light staging – which I do! He also said that his company's market share is top in the country and that should result in a faster sale. I don't know how to advocate for my business when other agents are so out there. I am getting really discouraged!"
A: The key is to know what other agents are doing so you can strategize, but don't let what the other agent is doing be your focus. What you need to do instead is change the conversation by really showcasing your system and results and raising doubt about the methods of others' systems when necessary.
In other words, agents today are playing defense when it comes to the listing presentation when they need to be playing offense.
You do that by visually outlining everything that you are going to do to help prepare the listing, market the listing, and sell the listing. Stop explaining and start showing.
You need to talk about pricing and fees. Don't wait for them to bring it up. When you are the leader in what can become an uncomfortable conversation, you are saying that you are comfortable talking about it and explaining it – ESPECIALLY if you suspect that your suggested price range is below what they were expecting.
Get into the conversation. If there is a pause, ask about what they are thinking. Handle those objections. Don't just gloss over them and expect them to go away. You have play whack-a-mole because if you don't handle it now, it is just going to pop up again later (if you are lucky enough to have a later with that client).
Finally, you need to showcase your results. Results are the proof that your system works!
You need to change your mindset and get into the game if you want to win.
Ready to change your mindset? I am holding two very special workshops coming up this fall that will change the way you handle the listing presentation. I have very limited seats available and in fact, I think I only have six seats left in my September class. Don't wait. Sign up today!