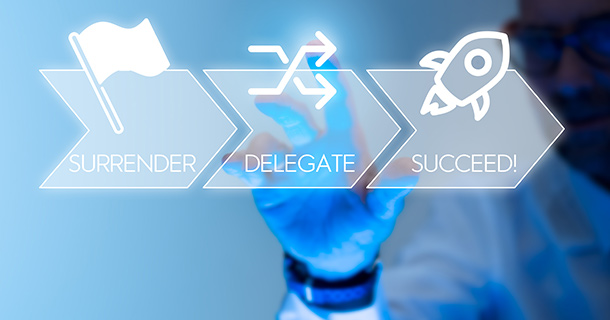 Hi everyone, and welcome to this week's Zebra Report. This week I want to talk about something that smart business-people do, something that great leaders do, and something that organized people do. What's the secret? It is the ability admit when you're not good at doing something. It's the ability to recognize that you need to learn something new and you either surrender to learn it or surrender to delegate it.
As a real estate coach, the biggest stumbling block I see for my clients is their inability to just say, "You know, I'm not good at that. I don't want to do it. I'm not going to do it. I'm going to field it out to someone else."
I think we have this misconception that we're supposed to be perfect at everything. You know what? Perfect is not fun. Perfect is not productive. The reality is that very few people are perfect. In fact, what makes us all so special is our imperfections. When you have the ability to admit what you are really good at – and what you are not so good at – then you can spend your time doing the things you're good at.
I've heard many people say, "If you're not good at something, then you need to master it."
I have an opposite thought process: If you are really good at something, do more of it. If you are really bad at something, and the thought of doing it just doesn't resonate with you, then you should think about delegating that task to someone else.
Great leaders and business professionals do this all the time. They surround themselves with a group of capable people to help them with all the tasks. I couldn't be as successful in my business without my team. Bottom line is that I surrender. I surrender to their talent, their ideas, and their collaboration. I don't pretend to know it all. I will tell people up front when something is not my area of expertise.
I think we all want to come across as knowledgeable, but we can't know everything. Being able to be transparent and honest about our abilities is actually quite powerful. Also, it's kind of lonely at the top. It's a lot more fun when you have a strong collaborative team with you. I celebrate what I'm good at. I delegate what I'm not good at.
That's the message of today: Celebrate what you're good at, and delegate what you're not good at.
There's always someone out there that enjoys the things you don't enjoy doing. Bring them on board and you will find that you are more productive because you are spending more time on what you're good at.
Surrender the idea of being perfect. Delegate what you're not good at.
Until next time, have a great week!
By Denise Lones CSP, M.I.R.M., CDEI – The founding partner of The Lones Group, Denise Lones, brings nearly three decades of experience in the real estate industry. With agent/broker coaching, expertise in branding, lead generation, strategic marketing, business analysis, new home project planning, product development, Denise is nationally recognized as the source for all things real estate. With a passion for improvement, Denise has helped thousands of real estate agents, brokers, and managers build their business to unprecedented levels of success, while helping them maintain balance and quality of life.