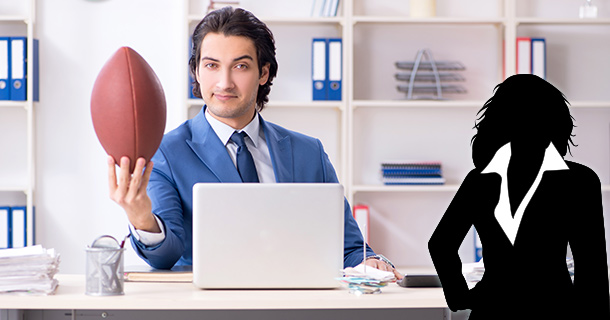 With the upcoming Super Bowl, I've had football on my mind. I want to examine that a little bit today, and look at some strategies used by the football pros can be applied to our businesses.
When we watch the game, there are a lot of players on the field, all with important jobs to help the team win. A lot of attention is put on the quarterback, as he is in a leadership role on the team. If you are a quarterback in your business, you are making the plans, calling the plays, and always looking for opportunities. That's what you're good at—finding the opportunities in the game.
If you are a receiver, you are waiting for someone else to take action first. You need to be in the right place at the right time, and then work with whatever is thrown your way.
I love thinking about the parallels between a quarterback or receiver and a real estate agent. A lot of agents out there are waiting, like a receiver. They're waiting for past clients to make a decision. They're waiting for buyers to get pre-approved. They're constantly waiting, waiting, waiting, like a receiver waiting for the play. Quarterbacks are a lot more active in creating those plays on the field.
If you can operate your business like a quarterback, you are asking questions like "What's the marketing doing?" the same way a quarterback asks "What's the field doing? What's the game doing? Where are the opportunities?" An agent needs to utilize the market and the moment the same way a quarterback does. Quarterbacks are always looking at the moment in the game—how to play it differently, how to play it better, how to do it better than the competition. In real estate, we need the same mindset.
The market we have right now is constantly and drastically changing. We see it change every week. Every time there is a shift in inventory, there is a change. Right now, there is a huge opportunity in longer-days-on-market product. In some markets, there are great opportunities in condos. In other markets, the opportunities are in fixer-uppers and flippers. The point is, you have to find those opportunities in your market. If you're just waiting, you're really running your business more like a receiver.
Now, there's nothing wrong with being a receiver in football and following a play. It's a fantastic position and essential on the field. However, it is a position where you are relying on someone else to make a play first. For many agents I know, contentment in their business is about having control over where their business is going.
As you watch the Super Bowl this weekend (and even if you don't), think about being your own business quarterback. Consider: Is there something in the market today that you could take advantage of? Where are the opportunities this year in the market? How can you take advantage of that? I whole-heartedly believe there are many untapped opportunities out there.
This weekend, as we watch these incredible athletes in the big game, think about your business and what you can learn from the greats on the field.
By Denise Lones CSP, M.I.R.M., CDEI – The founding partner of The Lones Group, Denise Lones, brings nearly three decades of experience in the real estate industry. With agent/broker coaching, expertise in branding, lead generation, strategic marketing, business analysis, new home project planning, product development, Denise is nationally recognized as the source for all things real estate. With a passion for improvement, Denise has helped thousands of real estate agents, brokers, and managers build their business to unprecedented levels of success, while helping them maintain balance and quality of life.