I hope some of you have enough "experience" to remember the old Rolaids slogan in which people with heartburn were asked about how they spelled "relief" and it was spelled R-O-L-A-I-D-S.
In real estate, we have different kinds of heartburn:
Heartburn when a past client works with another agent
Heartburn when we lose a listing to someone with different or more-polished tools
Heartburn when a friend, neighbor, or family member calls another agent to list their house
Heartburn when a potential buyer you have been trying to work with for six months decides to write an offer with a listing agent
I could write a book on all the heartburn stories I have heard over the years!
As a new agent, I had heartburn – bad. In my first six months in the business, I had no business, no one would trust me due to how young I was coupled with my lack of experience, and every time I thought I was close to getting some business, those potential clients worked with someone else.
My background prior to real estate was in retail sales, importing jewelry and other goods from around the world and reselling them locally. One of the best lessons in retail I ever received was in Rhode Island, THE go-to place for importing jewelry. At this one large international jewelry show which took place in a very large hotel, different companies would rent different rooms and the wholesalers would go from room to room to determine what they wanted to buy.
I happened to be in the elevator when I struck up a conversation with a gentleman who was there as a buyer for a very large retail chain of stores in New York City. He asked me what I had seen so far and what I thought. Then he asked me if I had gone to the packaging rooms yet which was an entire floor of this hotel. I said I hadn't. Then he said, "Well you know that is where you make your money, right? Let's go take a look!"
When we got there, he grabbed two sample boxes, one basic and one that had a much more upscale feel. Then he took some earrings he had on him and held it up to the boxes. "Did you know I can sell the same pair of earrings for twice the price when I upgrade the packaging? Why? Because people perceive it to be of higher quality and value." He held up the earrings with the cheap box. "Now, I can't put a $25 price tag on these earrings and expect people to buy them. These are $10 earrings at the most." Then he held up the earrings with the upscale box. "People will buy these earrings at $25 all day long."
"But they are the same earrings!" I protested.
"Trust me. I know that. My profit margin knows that. But the consumer perceives what the consumer perceives. Pick out your packaging first. That will establish your price point. THEN go back to the jewelry floors and find your product. Now, I am not trying to pull a fast one. I am a big believer in quality. But you need to know the importance of packaging when you are selling a higher-end product. Don't cheap out when it comes to packaging."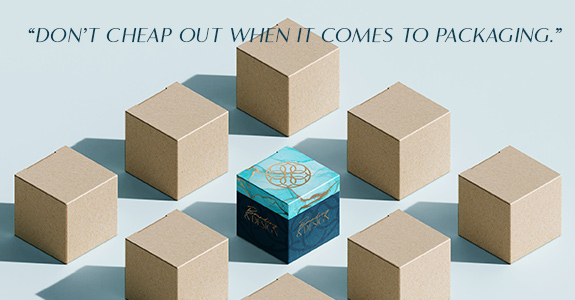 Don't cheap out when it comes to packaging.
His words came rushing back one day about six months into my new real estate career when I was feeling sorry for myself and my lack of business. I realized I had no packaging and therefore, no one understood my value.
I immediately picked up the phone and called a graphic designer, Liz, who had done some marketing work for agents and brokerages in the area. Liz and I developed a brand for my business and all of a sudden, I showed up. By showing up, I mean my confidence level increased, I looked the part, I had my tools, and was ready to do business. That extra confidence is what I needed for people to begin to believe in me and realize that I would do a good job for them because I had my systems together.
I definitely spelled relief B-R-A-N-D because creating that brand was like a light switch for my business.  So many of our clients have said the same thing. They walk a little taller. They speak with more conviction. They hold themselves in a different way. They know when to say "no" to pushy buyers and sellers.
Developing a brand was what I needed to get rid of the heartburn of not having business or getting overlooked for business. What is causing your business heartburn? Is it something a new brand or a brand refresh would help? Is your packaging up to the task?
---
We would love to talk with you about your business heartburn and how to find relief in a brand. Our brand consultation specialists are standing by and would love to talk with you about what is working and not working in your business, how a brand can help, and some systems and tools that the brand can be applied to that will begin helping you make more money on day 1!

By Denise Lones CSP, M.I.R.M., CDEI – The founding partner of The Lones Group, Denise Lones, brings nearly three decades of experience in the real estate industry. With agent/broker coaching, expertise in branding, lead generation, strategic marketing, business analysis, new home project planning, product development, Denise is nationally recognized as the source for all things real estate. With a passion for improvement, Denise has helped thousands of real estate agents, brokers, and managers build their business to unprecedented levels of success, while helping them maintain balance and quality of life.