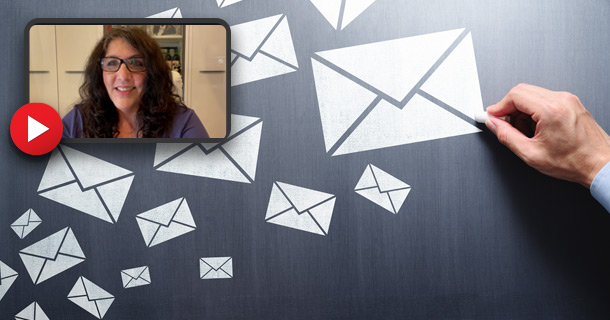 I'm excited about today's Zebra Report because I get to talk about my favorite mailers—both my favorite mailing campaign I sent out and my favorite that I've received.
Let's rewind maybe ten years, and it was the Victoria's Secret mailing campaign. They did such a phenomenal job. They were so consistent that I received something from them about every ten days. It was all-around a quality mailer. The quality of the paper and vibrancy of the ink made it visually appealing. They changed up the sizes so that when there was a big sale going on, I got a bigger catalog. They really had their readers trained to know what to expect as soon as we saw even a corner of the catalog in our mailboxes.
At the same time, my mom also received the catalog. This was when my daughter was maybe 12 or 13 years old. My mother mentioned that Alanna's birthday is coming up and that she was going to get her a gift. So I asked "What are you thinking of getting her?"
My mother answered, "Oh, I get this wonderful catalog called Victoria's Secret. I'm going to get her some things out of there."
"Mom! I don't think that's quite age appropriate."
"What are you talking about?" she replied. "Their things are beautiful."
Well, we sorted it out and eventually found a great gift that was appropriate for a grandmother to give to her granddaughter. After all, they had pajamas, slippers, and other rated-G products to choose from that would appeal to a young teenager. I remember this conversation years later and still smile at the fact that Victoria's Secret's beautiful mail marketing campaign made a shopper out of my mother.
That was my favorite campaign that I ever received. They've stopped doing it since, which I think is a little sad. I think if they were still doing it, it would be fabulous.
My favorite campaign that I ever did was my Geographical Farming campaign. I sent my farm something every month. I did a quarterly mailer four months out of the year. Seven times a year, I sent a monthly market watch. Once a year I did a great big annual report. It worked for townhomes, condos, and single-family residences.
My general farming campaign philosophy has always been – just like Victoria's Secret's mailing campaign – keep it simple, keep it quality, and keep it coming!
The secret is as simple as that.
Mail marketing is making a big comeback so really consider them for your business.
To schedule an appointment, call us at (360) 527-8904, email [email protected].
---
State of the Market is essential knowledge for real estate agents who want to position themselves for success, clear client talking points, and a solid foundation of market knowledge! Build your professional expertise today and watch this year's State of the Market presentation as presented at our 2022 Real Estate Success Summit. Playback offer ends March 1, 2022
---
By Denise Lones CSP, M.I.R.M., CDEI – The founding partner of The Lones Group, Denise Lones, brings nearly three decades of experience in the real estate industry. With agent/broker coaching, expertise in branding, lead generation, strategic marketing, business analysis, new home project planning, product development, Denise is nationally recognized as the source for all things real estate. With a passion for improvement, Denise has helped thousands of real estate agents, brokers, and managers build their business to unprecedented levels of success, while helping them maintain balance and quality of life.