Now through April 20th, receive a free Unforgettable Open House lead generation system (a $497 value!) with the purchase of a branding package. Our packages start at just $1,990 and financing is available.
Ready to start the spring season with systems and solutions?
Have you been thinking about developing a brand but weren't sure where to begin?
Worried about the costs?
There has never been a better time to develop a brand with The Lones Group!
With packages available for every budget, you can start your spring with a whole new brand designed to capture the attention of your potential clients.
"[The Lones Group] did all my branding and marketing and are amazing!"
– Renee V.

How Custom is Your Brand?
We offer two kinds of branding experiences that differ in the extent of their customization:
Instant Identity branding allows you to choose from our gallery of nearly 250 existing, ready-to-apply brands. They are semi-customizable: we will modify their color, personal portrait, and contact information to fit your needs.
Signature Branding is a completely customized design that begins with a design interview with our designers, resulting in a brand that is completely unique in all aspects.
How Many Tools Do You Need?
All of our branding packages include ready-to-use tools that you can incorporate into your business. We have hundreds to choose from – just check out the gallery below or download our list of tools – but to make it easier for you we have two pre-packaged options available to choose between: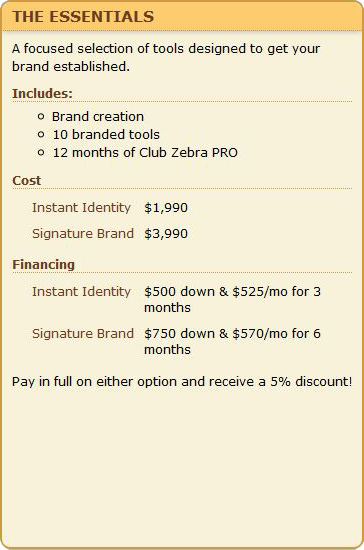 "I went to the listing appointment … right after I received my branded marketing boards and I felt so good walking in and showing them my samples and having something clean and nice to present instead of my cluttered folder that I whip stuff out of. They ended up interviewing several agents in their area, I don't specialize in the neighborhood but overcame that with a few things I mentioned … Thank you for your services and helping me to improve the business that I have."
And now we are giving away Our Unforgettable Open House Lead Generation System …
A $497 value – absolutely free!
Just sign up for one of our branding packages between now and April 20th and receive your Unforgettable Open House Lead Generation System in time to implement the tools and ideas for the Open House weekend!
And with our customizable packages and financing options, there is no excuse not to get your branding done!
It is easy to get started. Simply send us an email to [email protected]  or call our office at 360-527-8904 for more information or to request your contract.