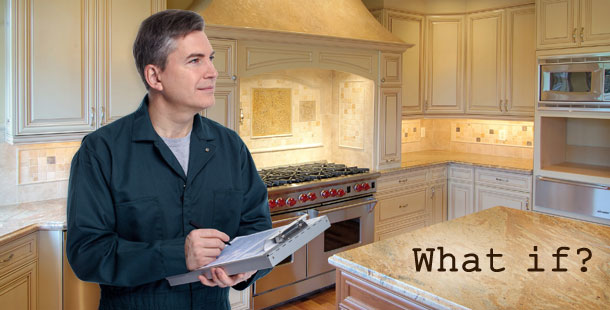 This is our final article in my "What If" series. If you would like to read the entire series, click the links below:
The theme throughout these articles is encouraging dialog with your buyer or seller by engaging them in conversation and getting them to think about the future consequences of today's decisions whether that be not putting their best offer forward in a competitive inventory market or not doing a needed price reduction.
Today's final topic involves a seller who perhaps is maxed out on their price and cannot – or will not – do the repairs the buyer has asked for after the inspection.     
Every agent who has ever listed and sold a property has at some time met a seller that was dead set against spending one more dollar on repairs. Many repair requests pop up when the buyers have their inspection and these deficiencies show up on the inspection report. Sellers often feel that they have already "discounted" their price during the offer and they are not going to budge on spending any more to fix either building flaws or maintenance issues.
However, this may not be in your seller's best interest and it is necessary for the seller to understand this. Sometimes the repairs can be quite minor but the seller feels that they have already made large price concessions and is determined not to "give away" any more. Other times the repairs may be major, but if the seller doesn't address the repair with this buyer and the buyer decides not to move forward, they will have to still have to address it at some point with the next buyer. It may be in the sellers' best interest to address the issues and repair them with the buyer they are working with now.
That is where you come in. As their agent and advisor, you need to ask good leading questions to get the seller thinking about their options and consequences. Some of these questions could include the following:
"What if you decide not to do the repairs and the buyer walks?"
"What if you decide not to do the repairs, the buyer walks and the next offer is lower?"
"What if we could get this transaction all wrapped up and closed if we agreed to fix x, y, and z?"
"What if you decide not to do the repairs, the buyer walks and we don't get another offer for three months? Would you be okay with paying the mortgage, insurance, property taxes and utilities for an extra three months?"
Most sellers who are upset about spending more money on repairs eventually do what they have to do to get the deal done, but not without some discussion and encouragement from their agent. This is especially true when they consider the harsh possibility of having to shell out additional dollars for property costs if the home sits on the market for a number of months. It is completely natural for sellers to be reticent to spend additional money. They need your strong guidance and "what if" questions to help them think through their best options.
Need additional help when working with sellers? Check out our full range of tools to help you in our Club Zebra Vault.