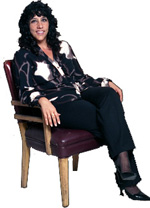 Q:  Denise, I want to have quality of life. I want to spend more time with my kids, but every time we have a "date" to do something, I get a call with a client emergency. How do I stop this cycle which is leaving me wiped out and my kids constantly disappointed?
A:  By saying "no" and establishing rules. If your clients are getting you to drop everything it is due to at least two of these three things:
You don't have rules in your business for when you will and won't work.
You don't know how to say "No."
Even if you have the above, your fear of losing a client due to the subsequent lack of income overpowers any willpower you have to be true to your kids. You justify this by saying to yourself if you don't have income, their basic needs won't be met and therefore you have to take the appointment.
Ouch! That might have stung a bit, but it is true. You need all three of the above to get a better handle on what you will and won't accept in your business. Above all, you need to have lead generation or referral systems in place in your business so you will have that consistent business and you won't live in a place of fear and will be able to do a better job of defending your boundaries.
So which is it for you?