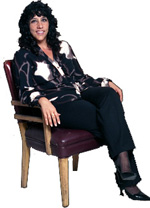 Q:  Denise I am thinking of signing up for an online lead service that promises me 100 leads per month, how could I lose with that?
A:  Whoooaaaa! Don't get out your credit card too fast! Not all agents are suited for online lead generation. You have to be able to convert people from strangers to visitors to clients and that is NOT as easy as it may seem. I know many agents that are paying hundreds and in some cases thousands of dollars for online lead generation, and while they may get leads they are not closing any transactions.
Without closings there is no money to be had. You have to decide what type of business model you want and if you have the skills to build relationships online without ever having met that person. Some agents are good at this and they have created a system of fast follow up and meaty information packages. If you are not prepared to take your follow up from fast to turbo-fast then you should reconsider, because online leads expect you to respond immediately. Before you spend any money, set up your follow up systems so that you are ready for any leads you may get.