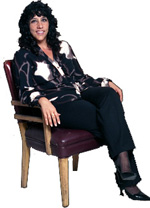 Q:  Denise, I really like your idea of the Hour of Power, but I just can't get up early enough! My husband is up by 5 AM and I have kids to get out the door by 6:15. Our mornings are chaotic and it takes me a while to be really awake. And in the evening, forget it! My kids are teens and stay up to 10 PM during the week. I can't see how I could find another 15 minutes, let alone a whole hour! I like your suggestion, but it just isn't realistic for me. How would you fix this?
A:  Many of my clients are in your shoes, juggling a real estate business, marriage and kids. In your situation, it may be a matter of not only finding a time, but a place. For Hour of Power to be most effective you need uninterrupted time. If you are finding that home is a place of loud family activity except while everyone is gone, then you need to decide if an Hour of Power when everyone is gone is feasible. You indicated that the kids are out the door by 6:15. Can you do an Hour of Power between 6:15 and 7:15? Or is going into work at that time an option if you focus better there?
Secondly, you need to defend your Hour of Power and have rules around it. If you let other things get in the way, they will. Shut the door and put a "Do Not Disturb" sign up if you have to!