In case you missed it this week, the National Association of REALTORS® economist bloggers released data indicating REALTORS® expect home prices to rise in all states over the next 12 months according to the May 2014 REALTORS® Confidence Index, with the median rise to be 4%. REALTORS® are anticipating median home prices to grow upwards of 7% in some states such as California, Oregon, Colorado, Texas, Georgia, and Florida.
While those are modest numbers, it does represent a potential raise for agents. Consider the home that today is selling for $200,000. 3% commission on that sale is $6,000. However, if prices rise 5%, next year that home might be selling for $210,000 and the commission is $6,300.
However, that raise starts with some hard work, wooing buyers and sellers. With sellers, that hard core wooing starts at the listing presentation.
Right now the trend is doing a presentation from the tablet. Agents swipe through slide after slide of information and graphics representing how the home will be listed in print and online. Some agents are doing CMAs from their tablet as well. The listing paperwork is on the tablet and with a few taps the paperwork is complete.
I definitely believe that there are advantages to using the tablet for certain aspects of the presentation; however there is something to be said for a balance of visual material at this very important time for homeowners.
For example, if I were doing a CMA, I would have the hard copy to leave with the sellers but perhaps flip through the photos of the different comps on the tablet. This allows more analytical and controller personalities to take notes about the different properties. If you present strictly from the tablet, the seller loses the benefit of the "handout."
Consider also documents such as a pledge of service or cancellation agreement. Those items should always be presented to the seller in writing. Also, sellers need testimonials or references in writing.
There are two areas of the listing presentation where you have an opportunity to really take it up a notch – print marketing for the home and photography.
I definitely feel that it is time to put down the tablet when it comes to these two topics. In order to have an appreciation for the print marketing you will be doing on a home, provide well-produced print samples or create a portfolio board with smaller samples. Very few agents do the latter and believe me, sellers are wowed because it looks professional, is polished, and they can't wait to see their home presented that way.
The board below is an example of a listing presentation board which includes samples of a house flyer and enhancement sheet, open house invite, special feature card, amenities map, just listed card, and article including information on the listing. Isn't that impressive?
Hmm … it isn't that easy to understand the concept when it is flat, is it? This is exactly the problem with only presenting from the tablet – you don't get that high-impact perspective that you need. However, look at the photo below when our Design Director Melanie is holding the board. Now do you see what a powerful tool this could be at your next listing presentation?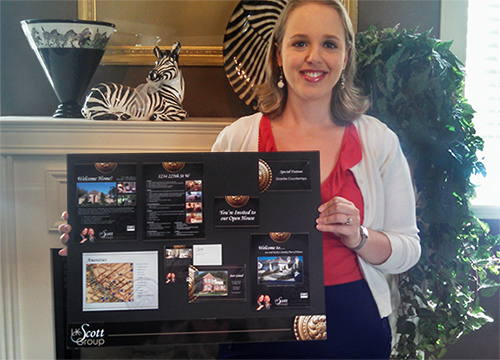 The same goes for showcasing photography. What do you think will have greater impact at your next listing presentation? Just showing a flat version of the photo like this: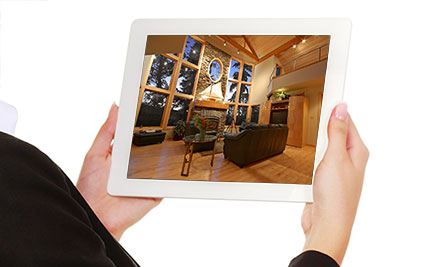 Or showing what you do for photography in a stunning photobook like this?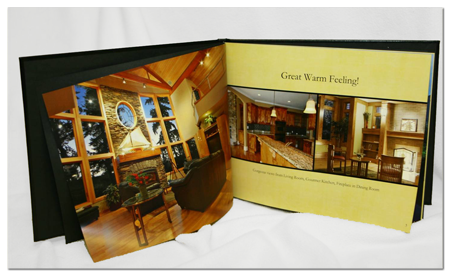 Now, I do encourage you to also show the impact of good photography in a listing or virtual tour which you should certainly do on your tablet. And you can absolutely showcase what you do for online marketing and video on your tablet.
In our Mastery program, mastering your listing presentation is just one of the many projects we can complete for you. We can create your presentation boards, a photobook, and any additional visual props to enhance your listing presentation and "wow!" sellers.
Les and Kathy Scott needed a strong listing presentation to compete against other listing agents in their marketplace. We created their boards to illustrate their system for marketing the home in print and home online. The result? Their confidence soared and they are unstoppable at a listing presentation!
I invite you to join my webinar to learn more about Mastery on July 10th at 9:00 am Pacific. Seats are limited. Register today!