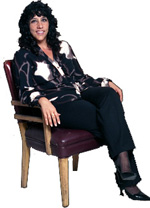 Q:  Denise, I was on your website and was taking your free personality test. I am a newer real estate agent and haven't had a lot of success yet. It said I was an analytical first and supporter second. I am concerned because I am not a promoter first and I think I need to be more of a promoter to be a good salesperson. Am I in the wrong job?
A:  ABSOLUTELY NOT! Each personality has their own niche and there is certainly one for you too! Your strengths are details and tasks, and you likely take great care of your clients. Your challenges are likely that you like to take your time, which might be frustrating to those people who like to move fast, but there will be buyers who will really appreciate the fact that you aren't rushing them through a house or into an offer that they are not comfortable with. There will be sellers who appreciate that you do what you say you are going to do, and that you have a system for taking and servicing your listing.
There are people out there that need to work with someone just like you! Develop your business model, brand, and systems to reflect – and celebrate – your particular strengths!
If you would like to take the free personality test, just click on the link below to be taken to the test on our website: Free Personality Analysis.