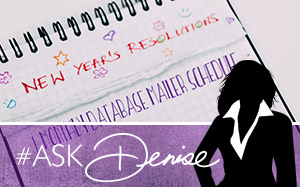 Q: "OK Denise, one of my resolutions is to get my database mailer out each month like clockwork. Any suggestions for making sure I get that done?"
A: I do have a suggestion for you: Treat your business needs like you would your client's.
The reason that we don't get things like this done is because we put our business needs last. But what if we treated our business deadlines like client deadlines? If you promised to get a CMA done for a client by say, Friday, wouldn't you make sure that got done? Of course you would. Your client is waiting on you and a potential transaction may rest on whether you got that in their hands or not.
So why not give your business-producing activities the same energy? After all, potential transactions are at stake. The only difference is that you don't have someone who has actively raised their hand, indicating they are ready to go. But what if it is your mailer that makes them raise their hand?
Have you ever taken action because of something you received in the mail? Maybe you bought a car, had the roof maintained, had your ducts cleaned, or even met with a financial advisor. Why not expect results when you send out communication? I am not saying that you are going to have someone buy or sell a house every time you send out a postcard, but your likelihood of the recipient using you when they are ready to make a move inches upward with every communication.
If you added nothing else but simply kept to your mailing schedule, you would absolutely see a result in your business. In fact, what if this one activity meant one more transaction in your business in 2020? Would you take that task more seriously?
Make your business needs a priority in 2020! Get those business-building tasks scheduled and then make them happen!