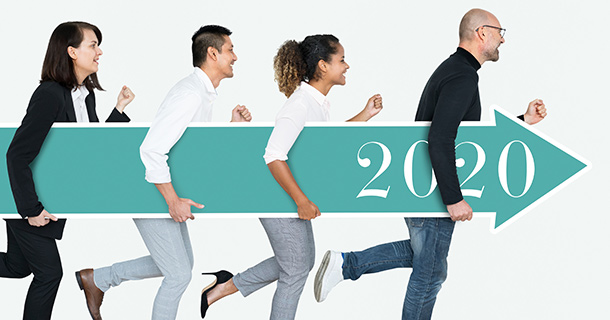 Here we are. Just one last business week and 2019 will have sailed over the horizon and into the past. The holidays are nearly here and come January you'll be refreshed and ready for a fresh start. Right?
Have a bad 2019? Put it behind you. It is over. It's done. It's time for a new you. It's time to figure out what you need to move your business up to the next level. If you are like most agents, you may be so deep in the trenches that you don't know where to look to get the bigger picture of what you need to change to move ahead. How will you do it?
The first step is to make sure you have the right tools.  A carpenter wouldn't go to work without his bag of tools. Neither should you.
If you don't have them in place, here are five tools you need. If you don't have all of them, then you need to make getting them top priority in 2020.
Get in Contact
It's past time to renew your efforts for staying in touch with your clients.  I don't care how far you've lagged behind – it is time to send something NOW.
Stumped for what to send? Let your clients know what you think the upcoming year in real estate is going to look like. People love predictions. Show them that you have a finger on the pulse of the industry. Demonstrate your expertise by including charts, graphs, and numbers that impress. Don't have time to do the research? Yes, you do. But if you need help, I just published my annual predictions and if you are subscribed to Club Zebra you can download that and most of the heavy lifting has been done for you.
Or you could send an Annual Client Review. This is another great way to get contact started for the New Year. Don't know how to put one together? Click here and we can help with that too.
Get Organized
Now is the time to take a moment and look at your surroundings.  What do you see? Are there piles of papers stacked all around you?
Look at your desk.  Look at your office.  Look at your home.  Look at your car.  Look at your closet.
If any or all of these are a mess, get them organized.  If your desk is a mess, then you're not going to be able to quickly pull out the forms you need.  If your car is a mess, then you can't allow clients to get in it.  If your closet is a mess, then you won't know what to wear to impress.
Organization isn't something that should be taken care of "eventually." Organization is a task that needs to be done on a daily basis. If you're not organized, start to fix this problem right NOW. If you are planning for growth in 2020, remember – you have to make room for growth in your life before you can grow.
Get Marketing
Marketing is the engine of your business.  It is the one tool that moves you forward.  Without it, you don't have a business.
If you've been putting off separating yourself from the pack of competition all around you, now is the time to think about branding. This is what will make your prospects eyes linger on your mailers, this is how they will know you are a full-time professional and dedicated to your profession at just a glance.
Now is the time to get people attracted to you and your business. No more putting anything off. Get into action and get the marketing tools you need that are going to propel your business to new heights.
Get Prospecting
Now is the time to prospect. Not in the spring. Certainly not in the summer. The time is NOW.
Now is the time to hold Open Houses. Yes, I know it's winter. That means that you will be the only one doing open houses and that is a good thing. This is good. You will get the clients that all the other agents are missing.
Now is the time to contact some expired listings. Yes, you can find a lot of business from expired listings. Many agents I know use this tactic to make serious sales.
Now is the time to target renters. With interest rates at this historical low, renters have an amazing opportunity to finally get into home ownership. It simply cannot last forever. Be the conduit that helps them get there.
Now is the time to put together your year-plan for working your geographical farm.  When you know what you're going to do ahead of time, it all becomes a matter of filling in the blanks.
Get Educated
Now is the time to plan your educational calendar for 2020.
Is there a new designation you want to earn this year? Is there a class that you've been itching to take? Could your technology skills still use some improvement? If you are here in Washington and looking for a foundation of knowledge and inspiration to set the tone for your 2020, I'd like to see you at our Real Estate Success Summit on January 29th. Check it out here.
Make 2020 the year that you finally fulfill all your educational goals.
This is it. It's here. Let's make 2020 a fantastic year. Let's embrace the opportunities presented to us. Let's strive to make this our best year yet!