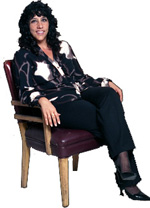 Q:  Denise, this market has made me absolutely exhausted! I have buyers who can't find a property… I have sellers who want to sell, but they are very concerned about being able to find a home to buy, so they aren't going to list right now. I can't seem to make any forward progress on anything, although I am working really hard. I  am emotionally drained!
A: I can definitely see you are emotionally drained, so I am going to give you some great advice – take two days off immediately. I can guarantee you if you are working this hard and feel like you are not getting anywhere then what you need is a win and a change in perspective. Change your voicemail and email to indicate when you will be returning calls and emails so you don't feel guilty. Then take some downtime for yourself whether that is sleeping, reading by the lake, taking a hike or a bike ride or even going to a movie with your family.
Just take some time. Then tackle one thing in your personal life that is making you crazy. Is it your junk drawer? Your closet? How about sweeping off your deck or patio and getting ready for summer? Maybe you need to go on a date and pay some attention to your personal life. I can almost guarantee you that if you tackle one thing you are neglecting in your personal life then you will have a change in perspective.
Then, when you are ready to get back to business next week, review my "Low Inventory and What You can Do About It" blog post and make a commitment to send out at least one letter next week to potential sellers to drum up inventory. Or if your buyers have a particular area in mind they are looking for a home in, consider sending a "I have a buyer" letter.
One additional idea is to meet with a title company and see what data mining opportunities they have available to create a custom niche list for you based on a market shortage. Alternatively, just get out of the office and meet with people. That is a great way to get your energy level up and show off your expertise.
But first and foremost, take that time off! It is critical for you to recharge right now so you don't get burned out.