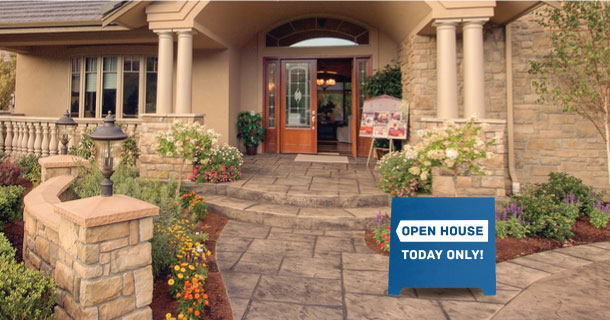 Depending on where you are in the country, you may or may not be experiencing a super-fast market this spring.  A super-fast market is defined as a market where there are many more buyers than inventory and homes are selling in very low days on market numbers for above listing price.
I hear agents trying to talk themselves out of doing open houses in a market like this because there may be little time to prepare for the perfect open house. In some cases, having enough time to advertise because the home may have come on the market mid-week and there are already plans to review offers by the following Monday.
You may not even be the listing agent but instead have been asked by the listing agent to hold the home open as a courtesy to you, the seller, the buying public (some of whom already have representation).
While there are different views on whether or not an open house should be held on a home that is likely going to sell very quickly, I challenge you to think about whether or not this exposure is in the best interest of the seller, you, or both.
Whenever a home can get additional exposure and bring potential buyers through its doors, you have the opportunity to generate excitement about the home which could result in the buying pool being willing to pay more for the home.  The excitement a busy open house generates can be very beneficial to the seller when it comes to offer time.  In short, an open house is beneficial to the seller, even in a fast market.
But is it in your best interest, when there are so many people that it can be difficult to connect and with many buyers already being represented who are coming through the front door? In short, yes!
Although some buyers may already be represented by agents, not all of them are. Furthermore, they may not be happy with the service they are getting from their agent or, in many cases, the agent is actually fictitious and a way to keep you from pouncing.
Neighbors (potential sellers) are out at open houses. Make an impression and this could mean a future highly-coveted listing!
Open houses in a busy market spells O-P-P-O-R-T-U-N-I-T-Y! But you have to get people to slow down in order to connect and make an impression.
When holding an open house, remember that there are four different personality types that may be in attendance. My advice is to have something for everyone that will suit their home searching needs. So take out your open house checklist and do a little spring-cleaning!
The four personality types are:   Supporters, Controllers, Analyticals, and Promoters.
It is important to appeal to each potential buyer's or seller's personality type and what kind of information they like and you will be sure to pick up some new buyers…and sellers!
| | | | | |
| --- | --- | --- | --- | --- |
| Tools to Impress Different Personality Types | Supporter | Controller | Analytical | Promoter |
| Welcome Sign | x | | | x |
| Detailed Home Book with amenities listed by room | | x | x | |
| Visual Boards with community and market information | x | x | x | x |
| Appreciation Reports of Various Areas | | x | x | |
| Snacks to take when leaving open house | x | x | x | x |
| Detailed Tour of Homes book outlining similar available homes in the area | x | x | x | x |
Do you have something for everyone on your open house checklist? There are so many different ways to stand out from the crowd in this busy market!
As an agent, don't overlook the power of holding open houses in this fast paced market.  Take your open houses to the next level by customizing the experience for every buyer that walks through the door.
Do you need templates to make your open houses stand out in any market?
The Unforgettable Open House Lead Generation System may be just what you need!
Now on sale! Includes 26 different items with 37 templates editable in Microsoft® Publisher as well as audio of Denise Lones talking about her signature template – The Tour of Homes book, how she implemented it into her open houses, and how this book made her open houses a success!