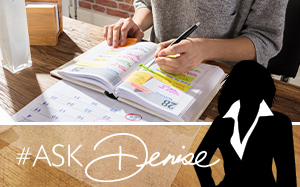 Q: Denise, I have been burned by past clients this last year. I have had 3-4 people who wound up going with another agent. I am mailing my past clients and sphere each month, but I don't call or see them live. Is the monthly mailer enough? Do I need to do more? I am competing with a lot of different real estate agents with a lot of different business models and I think that my past clients keep getting lured away my new shiny business models and they are not even giving me a call! Just tell me what to do.
A: My formula has always been to connect with all past clients, potential clients, and your sphere database each month via mail. In addition, you need a strong past client program that includes something special that you do for them each year. Here are some ideas:
Hold a client appreciation event
Do an Annual Client Review for them which is a special property report (send via mail)
Provide them with a gift (possibly around the holidays or at a client appreciation event)
Provide them with an offer for a free annual real estate consultation
Provide them with an individualized video
Doing something personal for past clients is key!