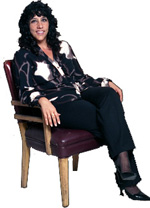 Q: Denise, how do I get visitors to sign in so I can get their contact information?  I've tried telling them the seller requires that for security reasons, but I'm getting some pushback from clients … or they use fake names.  Last week someone signed in as Betty Rubble. Help!
A: No one wants to be forced to sign in "for security reasons". Unless you're checking IDs at the door, and confirming people are who they say they are, it's pretty obvious to visitors that security is not the issue.  Here's a new approach to try:  Instead of demanding that guests sign in, instead allow them to tour the home. While they are there, make an effort at building rapport and showing your expertise. As they are finishing their tour, offer them something of value – such as neighborhood sales data or an analysis of appreciation in the area. Visitors are far more likely to be receptive to sharing at this point during their visit.
Not sure how to frame this up? How about asking a visitor, "Would you like me to send you an appreciation analysis of the neighborhoods in the Claremont area?" I think you'll be surprised by how many visitors say yes, and happily provide their contact information.