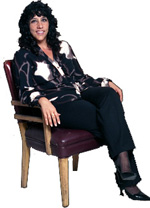 Q:  I need your help!  I'm trying to generate leads in my business by taking advantage of some of the things I do in my ordinary life – kids at soccer games, shopping with friends, or volunteer work.  I'm struggling to figure out how and when to move discussions from fun personal stuff, to business without seeming pushy or having it be really awkward.  Do you have any pointers?
A:   Yes, I do!  This is a very common question – and fear – among agents.  I usually find that friends bring up the market, and have questions.  In fact, you may feel put on the spot by these impromptu questions.  If you do, a simple "I'd love to chat with you later and answer your questions," lets people know you're available, but this might not be the right time to chat.  After all, who wants to be talking about pending sales when their son is at bat? 
If you find the conversation doesn't naturally move to real estate and you want it to, here's something that one of my clients has used very successfully.  She and her husband entertain and network extensively as part of his job.  If they're dining with a couple who lives in the community of Tall Firs, she does about 15 minutes of research on the Tall Firs to familiarize herself with active, pending, and sold listings.  Then, over drink, she can pop in a quick, "Carol, I couldn't believe what your neighbors are asking for their home!" … or "John, I was so excited to see the recent sales in your neighborhood."  Because this is done as a part of normal conversation, it doesn't feel sales-y or pushy.
Comments like these are guaranteed to get the conversion on to the topic of real estate.  While this does require a bit of work, it is very impressive to friends or colleagues when you seem to be an "expert" in their area.